Here's one more look back at 2016. Happy New Year!
January 4, 2017 11:41 am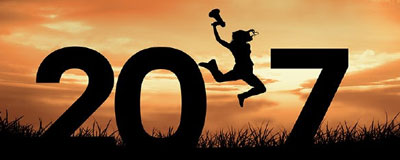 Happy New Year. Usually I will post my end of year review a day or so before the end of the year. But this year I got busy and stayed away from the computer for a few days. So I'm posting it now. Here are 10 posts of what I thought reflected what was happening at the time and a few that were kinda cool for us. Happy New Year and here's to wishing a happy, healthy and prosperous year for us all.

My January posts always cover the Super Bowl along with all the marketing, advertising and promotions that go with it. Super Bowl 50 saw Payton Manning going out on top with the Denver Broncos defeating the Carolina Panthers.  PepsiCo, the parent company of Doritos, was back again for their 10th and last season of their Annual Crash the Super Bowl Video Contest. Who will be in this year's Super Bowl LI 2017?
New for 2016 was this sweepstakes, a partnership between WWE and First Book that we got to host and administer. The sweepstakes encouraged families to read together for 15 minutes every day, then record what they did for a chance to win a trip to WrestleMania 32!
The social giant hosted their annual conference for developers known as F8 back in April. Here they rolled out more updates for their Messenger platform and launched a few bots on the platform as well. Facebook Messenger continued to roll out more updates as the year went on copying many of SnapChat's features. Facebook ended the year struggling to deal with fake news on it's platform which will continue to be an issue into 2017.
I was encouraged to again write this legal review when I was asked the following question which varies a little from time to time, "We are doing a quick giveaway via social media and want to check, are we covered from a legal aspect?" My question back is, do you have official rules? This post covers the rules should always include.
It was the month of June, which is known as the "dads, grads, and brides" month. So I wrote a post on a Father's Day promotion the week before and the week before that I wrote about a Twitter promotion for grads. So this post was focused on brides. A.C. Moore Arts & Crafts launched  a chance to win a wedding with their Craft Me a Crystal Coast Wedding Contest. The grand prize wedding consisted of a trip for the bride and groom to the Crystal Coast, North Carolina, to get married on October 22, 2016.
This was probably the biggest promotion that we worked on in 2016 and the one that has received the most comments from our post back in July. In fact I just received another one today asking about the winners. While we don't have any part of the judging of this contest, the period for the judges to review all the submissions was till December 30, 2016. So we expect that they will announce the finalists on their web page very soon. So we'll be watching for the announcement.
I wrote a few posts back in August covering the Summer 2016 Olympic Games in Rio. This surely was one of the greatest highlights of the year in sports for the USA. Simone Biles and Aly Raisman picked up the gold and silver medals respectively in the Women's Floor final. Then the Final Five went on to win gymnastics team gold. Procter & Gamble's "Thank You, Mom" ad campaign was back, featuring real Olympic athletes and their moms. Part of this campaign featured the "Raising an Olympian: Simone Biles – Rio 2016 Olympic Games" ad. P&G was smart enough to realize at the time that Simone was going to be a new star. See again this heartbreaking ad of Simone and her Mom for Tide.
This was one of the last games of the regular season for MLB, with my team, the Boston Red Sox playing against the Baltimore Orioles. They ended up beating the Orioles for their sixth straight victory. They would go on to the post season only to get swept by the Cleveland Indians were we got to see David Ortiz's (Big Papi) career come to an end. I was so glad that I made a trip to Toronto that season to see him play with the Red Sox against the Toronto Blue Jays. I had hoped to see a World Series with the Red Sox and the Chicago Cubs, which didn't happen. But the Cubs and their fans were finally awarded their first World Series title in 108 years!
I headed back to Chicago in November to attend the BAA's 2016 38th Annual Marketing Law Conference. The BAA had another great year with over 750 professionals in attendance ranging from regulators, legislators, corporate counsel, marketers and technology innovators who gathered again at the Marriott Hotel on Michigan Ave. This is a great conference to keep up to date with the latest on regulations and rules in our industry. This year's conference began the day after the election. So there were many discussions going on during the breaks and cocktail receptions about it. It will be an interesting 2017 to see what will now change.
This sweepstakes we saw are largest prize to date awarded which happened during one of the intermissions of this football game between Ohio State and Michigan. Congratulations went to Kathy Lowery from Columbus. She got to choose between the following options: 1) A $250,000 Trinity Home in an existing Trinity Home subdivision; 2) A $165,000 credit towards building a Trinity Home in a Trinity Home subdivision throughout Central Ohio; 3) $100,000 cash option. Last we heard Kathy choose to take the $250,000 home. The Ohio State Buckeyes ended up defeating the Michigan Wolverines 30 to 27 in double overtime in what was reported to be the most exciting college football game of the season!
Happy New Year! Thanks again for being a reader of our blog, Promo Talk, and I hope you'll continue with us in 2017.
Ready to get started?
Get Your Free Consultation