2016 Annual BAA Marketing Law Conference Recap
November 16, 2016 12:21 pm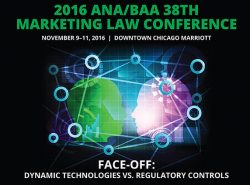 We attended the BAA's 2016 38th Annual Marketing Law Conference which wrapped up last week on Friday, Nov 11th. The organization (Brand Activation Association) had another great year in  attendance with over 750 professionals ranging from leading regulators, legislators, corporate counsel, marketers and technology innovators who gathered again at the Marriott Hotel on Michigan Ave. This year's conference was entitled "FACE-OFF: Dynamic Technologies Vs. Regulatory Controls.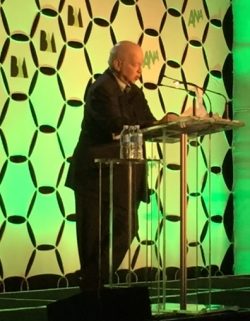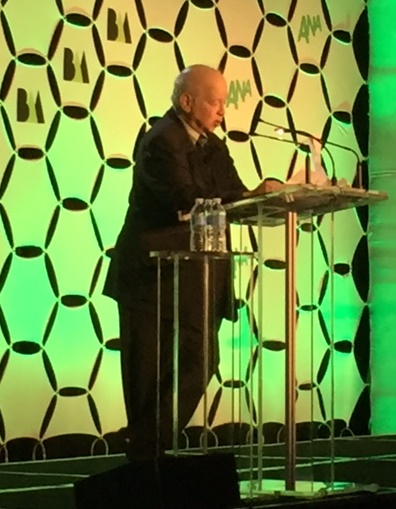 "Ours is an industry of rapid evolution" stated Ed Kabak, SVP, ANA and Chief Legal Officer, BAA who kicked off the first official day of the conference. "Since we deal with best practices and the state of the art in Marketing and Advertising Law and Digital Media; IP and Privacy, FTC, State A.G. and state-regulation, Lanham Act, Class Actions, and other areas, this forum is invaluable for marketers to move responsibly forward."
The conference started off with a day of pre-conference sessions dedicated to basics as well as advanced subjects. I arrived in Chicago that day in time to attend the "Advanced Social Media Sweepstakes/Skill Contests/The Major Platforms and Pitfalls session. This included a nice review of the major platform promotional guidelines including Facebook, Twitter, Instagram, Pinterest and Snapchat. One case study reviewed was the "Drive a Tank" Sweepstakes where a gaming sponsor awarded a grand prize that allowed the winner to actually drive a tank on top of two cars. There were 1.8 million entries from 40,000 entrants who were awarded extra entries from sharing on Facebook and Twitter. There were several issues, such as they didn't disclose with a proper hashtag to comply with the FTC's endorsement guidelines and they had to take out additional liability insurance to allow for someone to actually drive this tank.
As has been the case in past years, once the conference officially opened we heard from Linda Goldstein, a Partner and Head of the Advertising, Marketing and Media practice at Manatt, Phelps & Phillips LLP in New York who delivered her annual industry review. Linda reviewed some of the most newsworthy developments of the year and what they mean for marketing and advertising lawyers and professionals. Linda's talk is always very informative and entertaining as she reviewed again the basics of sweepstakes and skill contests along with social and digital media legal issues from some of the latest promotions.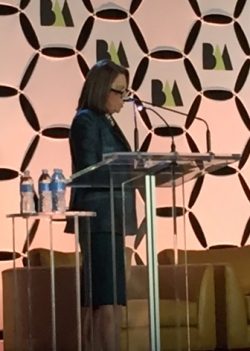 Linda noted that Scavenger Hunts are making a comeback and questioned if these type of promotions pose a time consideration. Delta Airlines ran a Snapchat promotion where participants had to look for filters throughout the LA area. How much time is too much? The Supreme Court did state in a prior ruling that a half an hour is okay. She recommended that you use your gut and impose limits if you feel uncomfortable about the risk.
As far as consideration in mobile promotions, data charges may apply if having to use only a mobile app. Text messages should still have an AMOE and you should disclose that text messaging charges may apply. However, if downloading a free app, there is no consideration, however if the app is a free trial and the participate has to actually cancel to avoid future charges that could be troubling.
Linda entertained us throughout her talk with videos of a new, imaginary app her team created called PizzaMon Go! It included real robots who would come to you and make you a artisan, personal pizza with your choice of toppings. Several issues arose as these young entrepreneurs launched this new technology including privacy issues, in-app purchase requirements, weather related issues that impacted events, and more. In the end, one of the robots was designated as our next Supreme Court Justice.
On Friday morning we were treated to another highly entertaining presentation from Ron Urbach, Chairman/Davis & Gilbert LLP, who also demonstrated how important it is for those in our industry to keep current. His presentation was on the interplay of marketing and advertising law to activate brands. Ron stated that every day attorneys make risk decisions when advising clients so it would probably be helpful for them to know what is on the regulators' minds. We get asked the question quite often, what are the risks involved? Ron reminded us that Attorney Generals are political animals who will track publicity; that the "reasonable person" standard invoked by the FTC may not be what is considered reasonable at the state level; and that consumer complaints can drive AG actions.
Some recent examples Ron gave was that the FTC charged Lord & Taylor that it deceived consumers through paid articles and paid Instagram posts from the online publication Nylon that came from 50 "Fashion Influencers" promoting a certain dress. Warner Brothers Home Entertainment paid certain gaming influencers, such as PewDiePie, to post positive comments about the Shadow of Modor Game. The Kardashians have been charged that they did not disclose their relationship to the brands that they hype of Instagram.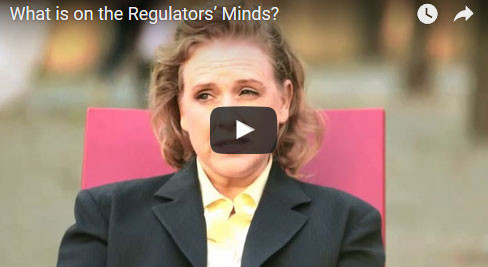 Ron did emphasize that promotion is one way for a brand to develop trust with consumers. So it's always best to be transparent. One thing that I have always heard since the early days of social media. The promotional terms for sweepstakes and contests are a contract with the brand and the consumer. So he advised not to use last year's terms and to learn from the lessons of the last year. Be consistent with what you say to the consumers, in your ads, through your social influencers, entry materials and POS. Ron ended his talk with a video that asked people on the street "If you were a hashtag, what would you be?" Ron's was #WhatIDoForClients. Here is another one of Ron's videos that he shared with us on the "Regulators".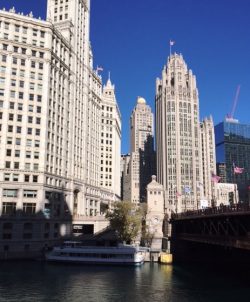 This year's conference did start off the day after the election. So there was quite a bit of discussion about it during the breaks and cocktail receptions. It was noted that Donald Trump has spoken out against the new privacy rules the FCC has imposed along with some changes to the advertising tax laws that are on the table.  So 2017 looks to be the busiest congressional year yet. We can review what these changes will be at next year's 2017 BAA Marketing Law Conference which will again be back at the Marriott on Michigan Ave. in Chicago starting on Nov. 13. Hope to see some of you again there.
Ready to get started?
Get Your Free Consultation