Taco Bell's Steal a Base, Steal a Taco Campaign is giving out free tacos today!
November 2, 2016 12:26 pm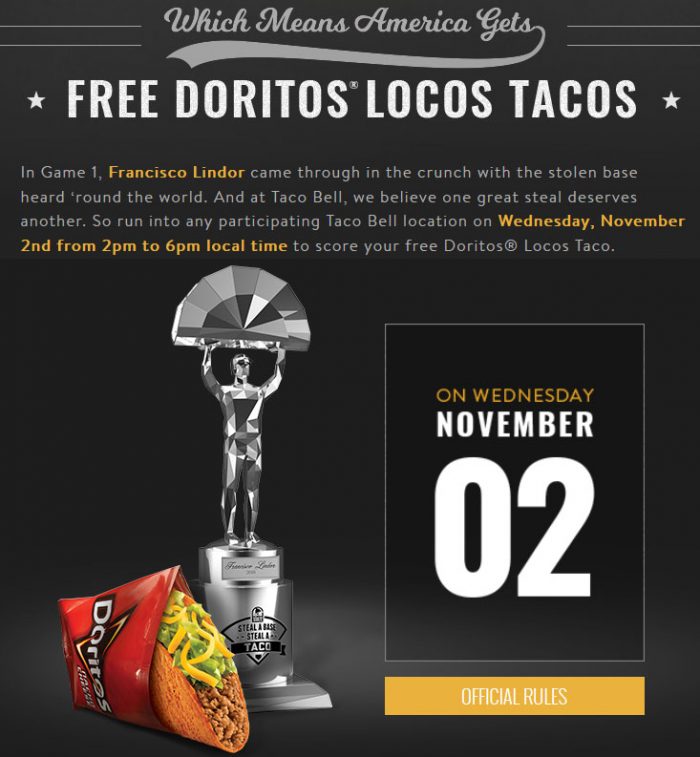 Taco Bell is giving out free tacos today! A free Doritos Locos Taco per person will be offered at participating Taco Bell locations nationwide from 2pm to 6pm. It's all part of their "Steal a Base, Steal a Taco" campaign that they have been running once again during the World Series. You can thank Cleveland Indians shortstop Francisco Lindor, who stole a base in the first inning of Game 1 last Tuesday night.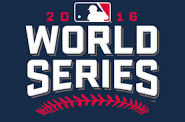 Now tonight all eyes are will be on Game 7. Last night, the Chicago Cubs tied up the World Series by beating the Cleveland Indians in Game 6. They won 9-3.The Cubs haven't won the series since 1908. The Indians haven't won since 1948. That's 108 years versus 68 years. So there is a lot on the line tonight. One long-suffering fan base will finally be rejoicing. For the other, it will be another year in an endless string of broken hearts. I have to admit I'm cheering for the Cubs. I was at Wrigley Field this summer and it is an iconic stadium.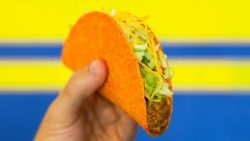 The Taco Bell "Steal a Base, Steal a Taco"promotion has been running for several years now.  The deal is if a base is stolen by any player for either team during any game of the 2016 World Series championship, Taco Bell will offer every person in the U.S. the opportunity to obtain one (1) free Doritos® Locos Taco valued at $1.49 each. So if a player steals a base tonight, the free taco will again be offered on Thursday, Nov. 10. Taco Bell will make an announcement to confirm this. Last year Lorenzo Lamar Cain a center fielder for the Kansas City Royals stole a base and free tacos were given out.
So can the Chicago Cubs come out with a win after being down one game to three and end the curse? We'll find out tonight!
Ready to get started?
Get Your Free Consultation