New tools to help businesses connect with consumers revealed at Facebook's F8 Conference
April 20, 2016 1:19 pm
Last week Facebook hosted their annual conference for developers known as F8. This is where the social giant previews their newest and latest products and tools for developers. This 2-day event took place again in San Fransisco. So as I did last year, I registered to attend the conference via their live streaming site. Mark Zuckerberg kicked of the conference with a full 30-minute keynote presentation in which he revealed the company's 10 year plan.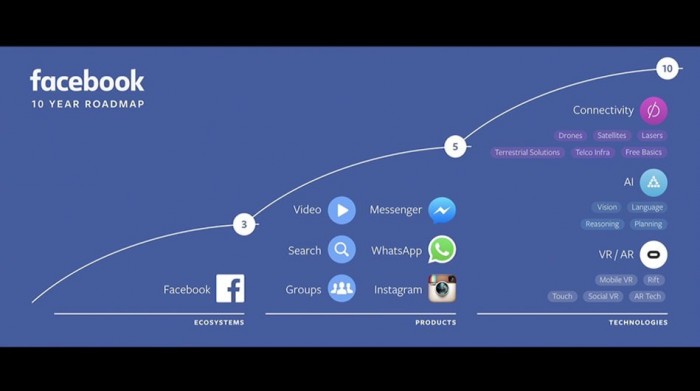 I wrote this blog post summarizing what was presented at last year's F8 conference in which Facebook unveiled major plans for it's Messenger app. Now the company claims that 900 million people and 50 million businesses are using it. It's the second most popular app on iOS, and was the fastest growing app in the US in 2015. This video helped to kick off all the announcements for Messenger Platform at F8.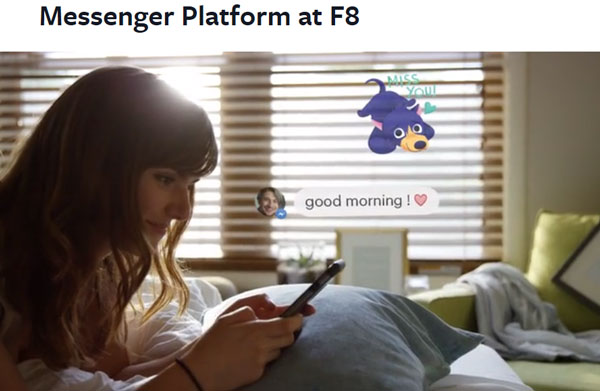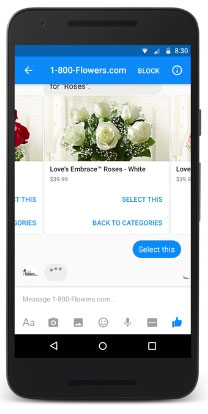 This year the big announcements where about Messenger bots. Bots became official and a few actually launched on Tuesday. Brands that develop them can now automate customer service support, guide e-commerce, and provide interactive experiences to users. CNN is already providing news, and Spring is sending personalized clothing recommendations with buy buttons. A video posted on the Facebook News page video shows how someone might interact with a 1-800-Flowers bot, which helps the user select a gift bouquet of roses and asks for details about the order.
Developers and businesses are now able to access documents to build bots for Messenger, which can be submitted to Facebook for review and gradual approval. So far other partners besides 1-800-Flowers.com and CNN include Expedia, Fandango, Philz Coffee and Shopify. The success of bots will likely depend on developers' ability to make them useful for users, as well as brands' ability to control them. Facebook also announced that within Messenger, users can now share Dropbox files and talk to friends using a small round window (so the rest of your screen can be used to message others–or if you have an Android phone, use apps).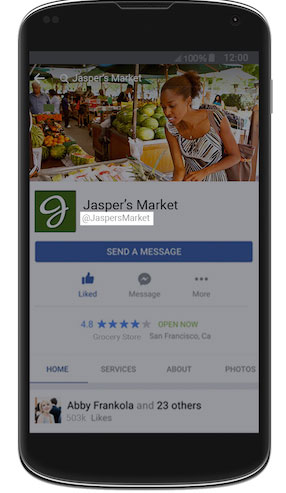 Facebook is welcoming the business community to Messenger with a new set of business-friendly tools meant to help synergize communication with customers. First, Twitter handle-like usernames derived from the page's vanity URL will soon appear directly on a brand's page. Going forward, these usernames will be placed directly on a business's Facebook Page, directly underneath the Page title with the @ symbol in front of it. Those Pages who don't have a unique username will want to create one, and of course those who haven't paid much attention to their vanity URL before may want to make some changes before this feature goes live.
Facebook will also introduce new ways for users to start conversations with businesses. The first, Messenger Links, will enable consumers to quickly open a chat with the desired business by clicking a link in the form of short URLs with the format "m.me/username". Codes will serve the same purpose, but come in the form of unique, Snapchat-like codes that users can scan in Messenger using their phone's camera. The same codes can be used by businesses in ads, websites and other marketing materials. Messenger for business is about to get serious.

Of course Facebook is already looking for ways to use its new bots to monetize the platform, currently testing Sponsored Messages. They serve as a way for businesses to re-engage consumers who have previously started communications with them. Another ad type, Click To Message, would appear in a user's News Feed and act as a call to action to start a conversation with a brand in Messenger. Here, the brand could personalize its offering based on the user's bot interactions on a platform the customer is already familiar with, rather than sending the user to an unfamiliar e-commerce site where he or she might find difficulty navigating.
So we'll see if brands start to integrate Facebook Messenger, and well as Messenger bots, for promotional marketing in the coming year. Will we be able to enter a sweepstakes or contest by a bot instead of an entry form? Any thoughts or plans you may have about this please share.
The major goal Mr. Zuckerberg revealed in this ten year plan is that he wants to bring the Internet, and increasingly cheaper and more functional devices and data centers, to the entire planet, making the world flatter and enlisting more people to become members of the Facebook society. That would be very nice.
Ready to get started?
Get Your Free Consultation