Here's a few sweepstakes for guitar lovers
April 13, 2016 11:46 am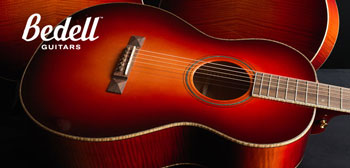 Guitar players will really appreciate these three sweepstakes that are currently running from a company that calls themselves, Two Old Hippies. Our sister company, Alliance Sweepstakes Services, is the administrator on all these promotions. The Take The Bedell Challenge just recently launched on April 1st where they're giving away a Bedell Wildfire Guitar.
They are inviting people to visit any Bedell dealer now through July 31st and snap a photo or take a video of themselves with a Bedell Guitar. Then they need to upload it to Twitter or Instagram and include the hashtag #BedellChallengeEntry. One grand prize winner will be drawn at the end of the sweepstakes who will win a Bedell Wildfire which retails for $3,990!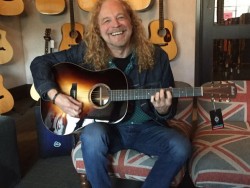 We are again utilizing the SEEN hashtag campaign management platform for this of promotion since it just uses a hashtag as a means of entry. I wrote about this platform in last week's post about the Yes You Cran Sweepstakes. Ease of entry is the biggest benefit of using a hashtag only entry, plus it provides additional social sharing that can help increase the reach of the promotion. The platform pulls in all the posts from Twitter and Instagram that use the promotion-specific hashtag and shows these posts in the gallery page as you see here.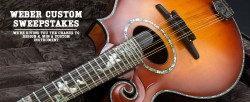 The Weber Custom Sweepstakes is giving people a chance to design and win a custom instrument. Participants are invited to fill out a brief survey that would describe the custom instrument that they would dream of. One lucky musician will be selected to receive up to a $5,000 credit towards their dream acoustic instrument.
"I have always been inspired by players of all styles and experience levels," explains Bruce Weber Jr. "We love building one-of-a-kind, heirloom instruments, that let the player show off their individuality!"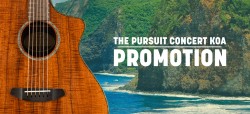 The Exotic King Koa Giveaway Sweepstakes is offering the chance for one winner to receive an Exotic King Koa Guitar that is valued at $8,000. Participants automatically receive one entry into the Sweepstakes when they purchase a Pursuit Concert Koa Guitar and complete and submit the warranty registration form to Breedlove Stringed Instruments. A mail-in option without purchase is also included.
Both of these last two sweepstakes run till May 31. So any guitar lovers out there, here are three different and unique chances to win.
Ready to get started?
Get Your Free Consultation