Cranberry Marketing Committee kicks of the #YesYouCranSweepstakes to promote the SuperFood of the month
April 6, 2016 12:18 pm
For those of us in the northeastern part of the country you wouldn't know it's now Spring.  I came back this weekend from a vacation at the beach in Mexico and woke up to snow on Monday morning. The vacation was very great though and the reason I haven't written here for a couple of weeks.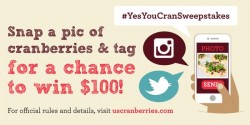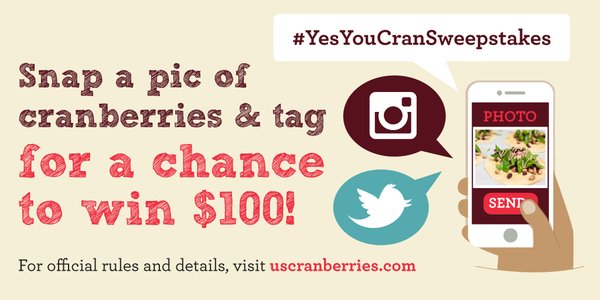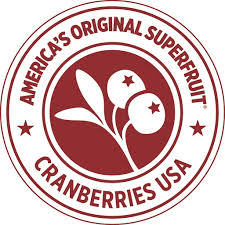 One of our new spring promotions is the Yes, You Cran! Sweepstakes sponsored by the Cranberry Marketing Committee. They have partnered with the Compass Group to feature cranberries as the super food of the month in April 2016. The Compass Group is one of the world's largest foodservice management companies and will feature cranberries in many of its U.S. facilities, which include school and university dining centers, business cafés, healthcare facilities and more.
Accompanying the superfood promotion is the Yes, You Cran! Sweepstakes. During the month of April  participating Compass Group foodservice locations will be displaying promotional signage and serving recipes within their facilities. People who visit one of these institutions are invited to enter the Sweepstakes by taking a photo of one of these cranberry promotions that may include cranberry posters, signs, recipe cards, sampling events, demonstrations or dishes, and then posting it on Twitter or Instagram. Participants must also include the promotion hashtag, #YesYouCranSweepstakes and must follow the Sponsor on Instagram @USCranberries or Twitter @USCranberries.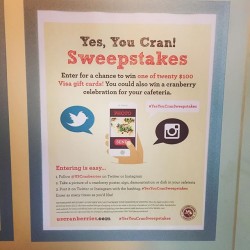 A total of 20 weekly prize winners will each receive a $100 gift card. One of the winners from week four will be randomly selected and win a prize for the facility that they took their photo from who will win a catered cranberry celebration.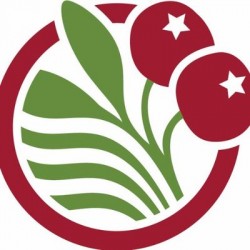 "We love that Compass is able to shine a spotlight on cranberries during what some may consider the off season. Cranberries are a versatile fruit that can provide unique health benefits to consumers all year long," said CMC Executive Director Michelle Hogan. "And we're particularly eager to reinforce this message across school cafeterias, since cranberries count toward the school foodservice fruit servings required for the National School Lunch Program."
We are utilizing the SEEN hashtag campaign management platform for these types of promotions that just use a hashtag as a means of entry. This ease of entry is one of the biggest benefits of using a hashtag only entry, plus it provides additional social sharing that can help increase the reach of the promotion. The platform pulls in all the posts from Twitter and Instagram that use the promotion-specific hashtag and allows for those posts to be shown in the gallery page as you see here. It allows you to moderate the posts so that you may approve or disapprove them before they are posted to the gallery. You can read more about the benefits and drawbacks on this entry method by reading the post Alex Ditty from Seen wrote on this blog here.
It appears that they're off to a good start with participation on the page. One additional benefit of using the hashtag management tool that I almost forgot to mention is that it provides a place to post the official rules that you need for any sweepstakes or contest. That should not be overlooked.
Ready to get started?
Get Your Free Consultation