WrestleMania Reading Challenge offers sweepstakes to encourage participation
February 17, 2016 12:59 pm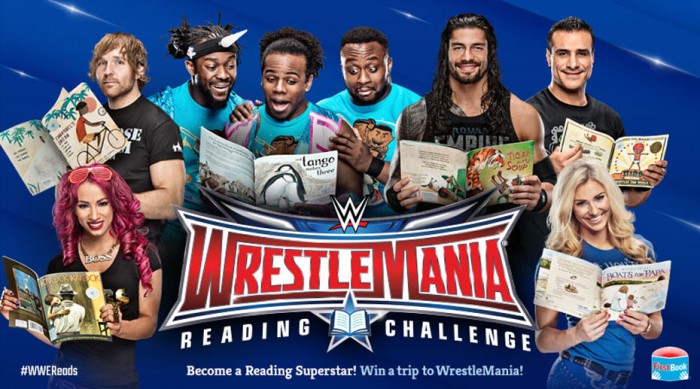 First Book has partnered with the WWE on this year's the WrestleMania Reading Challenge. New for 2016 is the WrestleMania Reading Challenge Sweepstakes that we are administrating and hosting on their behalf. We've been working directly this year with First Book, a nonprofit social enterprise that has distributed more than 135 million books and educational resources to programs and schools serving children from low-income families throughout the U.S. and Canada.
The sweepstakes encourages families to read together for 15 minutes every day, then visit the promotional website, wrestlemaniareadingchallenge.com, and submit the number of minutes they read that day to receive an entry.
Once submitted the site then plays the video of the week that features a WWE Superstar thanking and inviting them to share on social media that they've taken the WrestleMania Reading Challenge. This one features Sasha Banks who says to "read like a "Boss" and join the WrestleMania Reading Challenge for a chance to win a trip to WrestleMania 32!".
Two grand prize winners will each receive a trip for two to WrestleMania 32 which is scheduled to be held at AT&T Stadium in Dallas, TX, on April 3. The prize package includes round trip airfare, 3-night hotel accommodations in Dallas, two tickets to the event, ground transportation and $300 in spending cash. Four first prize winners will have 1,000 books donated from the First Book National Book Bank to each of the winner's designated beneficiary school or program and 10 second prize winners will receive a replica WWE World Heavyweight Championship Title belt.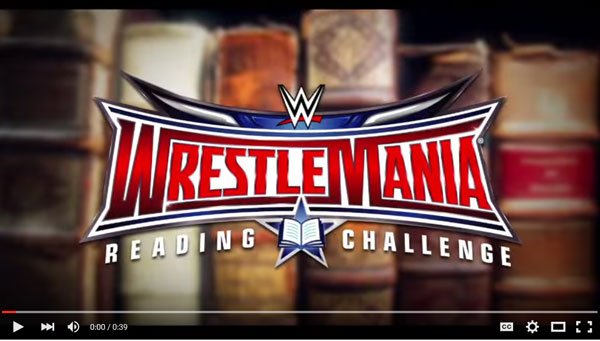 The WrestleMania Reading Challenge is ending this Friday, Feb. 19. As of this morning there are over 40,000 entries and thousands of minutes have been pledged. A huge social media campaign was also added this year to help get the word out. First Book and WWE have been actively posting on their social media accounts throughout the challenge and have held several Twitter parties using the hastag #WWReads. WWE helped to kick-off the challenge by creating this PSA that has aired during live TV events including Monday Night RAW and SmackDown.
WWE is also taking part in a Local Book Wish campaign in the Dallas area leading up to WrestleMania 32. Educators are encouraged to submit "book wish" requests to First Book to enter to win books from WWE for classrooms and programs from Feb. 1 to 19. One school will be selected to receive a visit from WWE Superstars, a Reading Celebration and a 1,000-book donation to their school!
"WWE is proud to partner with First Book and continue our long-standing commitment to education and literacy initiatives through the WrestleMania Reading Challenge," said Stephanie McMahon, Chief Brand Officer, WWE. "Together, we are providing a fun and engaging experience to encourage children of all ages to read."
So hurry up and take the challenge today. You only have a few days left to help increase that total reading pledge!
Ready to get started?
Get Your Free Consultation