Here's our Super Bowl 50 Wrap Up
February 10, 2016 1:52 pm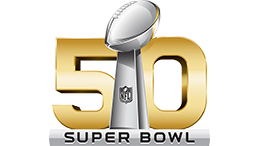 Super Bowl 50 is now history. The Denver Broncos won. They beat the Carolina Panthers 24-10. Peyton Manning said throughout Super Bowl week that it has been the Broncos' "bruise-inflicting, quarterback-rattling defense that got us here, let's just make that clear." And he was so right. Cam Newton has finally gotten a slice of humility!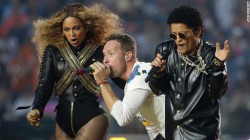 Lady Gaga kicked off the event with the National Anthem and proved to everyone that she really can sing! Beyonce won the halftime show were she also announced her new 2016 Formation World Tour. Fans rushed to her website and temporarily crashed it. The end of the show featured a tribute to past halftime performers including Michael Jackson and Whitney Houston which was pretty cool.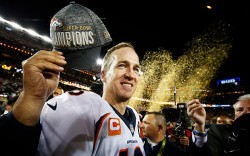 So now for the ads. Advertisers this year paid $5 million for a 30 second Super Bowl Ad. Pepsi and Budweiser where again the big sponsors. Payton Manning gave Budweiser what has been calculated to be $14 million in free advertising when he told a sideline reporter that his postgame plan was to "drink a lot of Budweiser." Then he  mentioned the beer again a few minutes later saying, "what's weighing on my mind is how soon I can get a Bud Light in my mouth." In other words, don't ask me again if I'm retiring!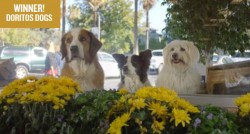 For the last ever Doritos "Crash the Super Bowl" contest Doritos chose to show two ads at Super Bowl 50, rather than picking one winner. "Ultrasound" by Peter Carstairs and "Doritos Dogs" by Jacob Chase were both aired. However "Doritos Dogs" was named the official winner. I stated in a previous post that I wrote about this contest that I am a sucker for any video with dogs! The winner received $1 million and a real jump start to his film making career. Doritos announced that even though this 10 year contest has come to an end it's only the beginning. Meet the Doritos "Legion of the Bold" campaign. More to come on this.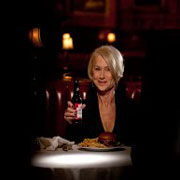 This was definitely the year that many celebrities got in on the action. Amy Schumer and Seth Rogen for the Bud Light Party,  Ryan Reynolds was "what a man" for Hyundai and Steve Harvey, who is now famous for his Miss Universe mistake, apologized again for T-Mobile. Drake and a trio of suits managed to make an overplayed song the center of a very funny joke in T-Mobile's Super Bowl ad. Aerosmith rocker Steven Tyler commissioned a portrait of himself made entirely of Skittles. Abby Wambach, Serena Williams and professional skateboarder and actor Tony Hawk defied labels for Mini Cooper. Christopher Walken saved a man from a lifetime of beige socks in this Super Bowl ad for Kia. One of my favorite was Helen Mirren promoting the #GiveADamn movement against drunk driving for Budweiser.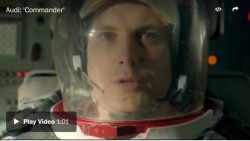 Some of my other favorites were Audi's surprisingly emotional "Commander" that snapped an aging astronaut out of his depression and included the late David Bowie's "Starman" as the soundtrack. The Heinz "Wiener Stampede" was so cute that included a bunch of wiener dogs in hot dog suits running in slow motion into the arms of people dressed as ketchup and mustard. Again, it's a dog thing with me. Also, of course, is Subara's "Dog Approved" ad that featured a golden retriever (I have a golden retriever) who is driving around in her Subaru and checks the rear view mirror where we see a puppy strapped into a car seat in the back. I love dogs doing people things, like the Dorito's ad as well. But one ad that I laughed out load to was Honda's new truck ad featuring sheep singing Queen's "Somebody to Love". It was something about those sheep and the song together.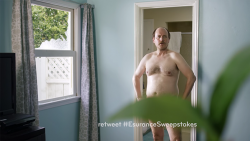 I've read many different articles about all the Super Bowl ads and there was not a one ad that really stood out, like Budweiser's lost puppy last year. But I found most entertaining. Mountain Dew's puppy-monkey-baby that they created for their new Kickstart product I thought was pretty weird. But again, I'm not their target market.
Esurance's ran a 30-second pregame ad and then a 1st quarter Super Bowl ad that  promoted their Pass It On Sweepstakes offering a chance to win up to $1 million in exchange for tweeting #Esurancesweepstakes. This generated huge Twitter chatter. According to data from tech company Spredfast, the brand's Twitter mentions spiked at 6:35 p.m. when the commercial aired, generating 9,000 tweets per minute. The hashtag also trended nationally on Twitter for roughly 15 minutes.  As a whole this year, hashtags were in 45% of Super Bowl 50 ads, slightly down from 50% last year.
So that's my wrap-up of Super Bowl 50 and all the ads and promotions that were associated with it. I hope you enjoyed my posts. We will now go through football withdrawal and dream that maybe our team will make it next year!
Ready to get started?
Get Your Free Consultation