The Ultimate Summer BBQ Sweepstakes from Seagram's
July 12, 2017 2:25 pm
The summer season of promotions is now in full swing. Last month I wrote this post regarding a Father's Day promotion we were working on which was the first of several for Infinium Spirits who has many different alcohol beverage brands. That sweepstakes was for their Templeton Rye brand and now the current sweepstakes is for their Seagram's Vodka brand.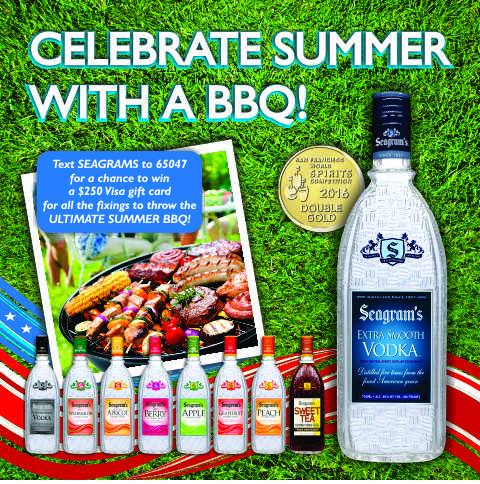 The Ultimate Summer BBQ Sweepstakes kicked off on July 1 and runs till the end of August. Participants are invited to enter for a chance to win one of four grand prizes which are a $250 Visa Gift Card that they may use for the all the fixings to throw their own ultimate Summer BBQ.
The sweepstakes is being promoted on neck hangers on the Seagram's bottle in store where participants are instructed to text "Seagrams" to the shortcode 6507 to be entered. They then receive a message back with a link to a brief, mobile-friendly entry form that they need to fill out and submit to receive an entry into the sweepstakes. The Seagram's marketing team not only collects their mobile phone number but also their name and email address, and in this case, Seagram's also collects their birth date in order to confirm they are 21 years of age or older. Some marketeers may also ask for participant's mailing address which makes it easy to ship out prizes directly to the winners.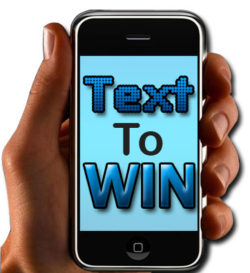 Text-to-win sweepstakes promotions are being used more and more this year. It's an easy way for consumers to enter, especially when they are at an event or at a store location. When they do this you gain their mobile phone number and they are then automatically subscribed to your text messaging list (which they can opt-out at any time). Besides the ease of entry for consumers, Seagram's Vodka also receives extra awareness at the retail locations. Many alcohol beverage brands are now utilizing text to win and other types of sweepstakes promotions in order to gain the extra display and point of sale that promote the sweepstakes.
We've been partnering with the Sweeppea mobile platform on several text to win sweepstakes now for the past couple of years. We have another sweepstakes scheduled for the fall for Infinium Spirits that we'll be working with the team from Sweeppea on as well. So stay tuned and hope you have some great BBQ's in the meantime.
Ready to get started?
Get Your Free Consultation