Sweepstakes offer chances to win tickets to Super Bowl 50
January 6, 2016 12:15 pm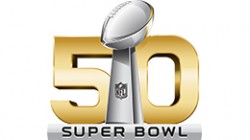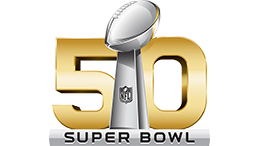 I hope everyone enjoyed their holidays and Happy New Year. Now that we are into January, as my blogging tradition conditions, I'm going to focus on the football playoff season and the Super Bowl. I will be covering some of the ads and promotional campaigns associated with Super Bowl 50. This year Super Bowl 50 will be hosted on February 7, in the City of Santa Clara at the state-of-the-art Levi's Stadium, which the bay area hosts claim is the greenest and most technologically advanced professional football stadium in the United States.
Here's what this year's playoff picture looks like this year: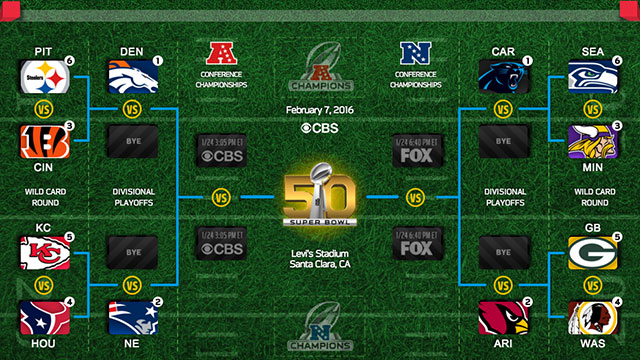 If you have been a reader of this blog, you would know that I'm a Buffalo Bills fan and writing about another playoff season that they didn't make. It was the first year with Rex Ryan as the coach, who promised that we'd make it and then had to eat his words. But on the bright side, it appears we have found a quarterback in Tyrod Taylor and he and Sammy Watkins really connected in the last game of the season in which they ended the Jets playoff hopes.
The Super Bowl has been one of the most watched sporting events and continues to have an enormous amount of marketing associated with it. NBC's broadcast of last year's Super Bowl was the most watched program in American television history, surpassing the previous year's game. So we'll see if we break that record again.
Last year most of the advertisers followed the trend of the previous year and released their TV spots prior to the actual broadcast of the game. So we expect to see more of that this year. For now here are a few of promotions that are currently still offering a chance to win ticket packages to the game.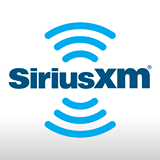 SiriusXM's Super Bowl 50 Sweepstakes is giving their current subscribers a chance to win an opportunity to go to Super Bowl 50. One Grand prize winner will receive round-trip airfare for two to San Francisco, CA, three nights hotel stay and two tickets to Super Bowl 50. This sweepstakes ends on January 25.

Campbell's Chunky Super Bowl 50 Instant Win Game is giving away ten Grand Prizes that include a 3 night trip for each winner and guest to Super Bowl 50, round trip air transportation, hotel accommodations, a travel stipend for ground transportation, 2 tickets to the game, 2 Super Bowl 50 Gift Bags and $250 spending money. Participants are invited to purchase specialty-marked cans of Campbell's Chunky soups and look under the lid to see if they are a winner. A no purchase entry is also included on the promotional website.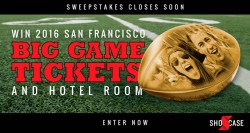 We are assisting a client with The Shocase Special Teams Sweepstakes which is offering participants a chance to win 2 tickets to Super Bowl 50 along with hotel accommodations.  We again are using the Shortstack platform to host the promotional entry form. Shocase's objective is to create awareness of their professional network for marketers and gain new members.
So what teams will make it to this year's Super Bowl? Will we see the return of the New England Patriots, or will it be the Denver Broncos who will battle it out with Cam Newton and the Carolina Panthers? Or will one of the wild card teams, such as Seattle or Pittsburgh,  continue their recent hot streaks and win a division title. We'll know more after this weekend. Stay tuned for more coverage as the road to the Super Bowl continues.
Ready to get started?
Get Your Free Consultation