Sweepstakes help Home Depot increase customer survey participation
May 25, 2017 11:44 am
Sweepstakes are a great way to encourage people to fill out and submit a customer survey. We run many sweepstakes that are tied to a survey which help to provide the sponsor with feedback and customer insights. Many of these types of sweepstakes that we help administer are for retail locations that run these on a monthly or quarterly basis.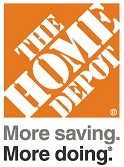 We are now in our second year assisting Home Depot with their sweepstakes. They have been utilizing the services of Lieberman Research Worldwide (LRW), one of the largest privately-held marketing research consultancies in the world. They help run customer satisfaction surveys for many different clients and we've been assisting them with various sweepstakes that are tied into some of these surveys.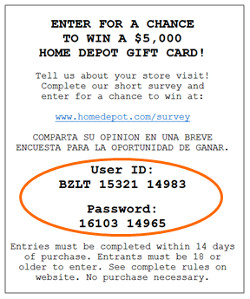 I recently wrapped up confirming the winners for the Home Depot Quarter 1 Customer Survey Sweepstakes which ended on April 30. When someone makes a purchase at a Home Depot store they receive information on their receipt that includes a web address and an invitation to fill out a survey for a chance to win. In order to access the sweepstakes, each customer needs to submit the unique User ID and Password that is printed on each receipt which is only valid for 14 days from the date of the transaction. There is a limit of 45 entries per person per sweepstakes period. There is also a mail-in option where people can send in their information to be entered into the sweepstakes without making a purchase in which we manage.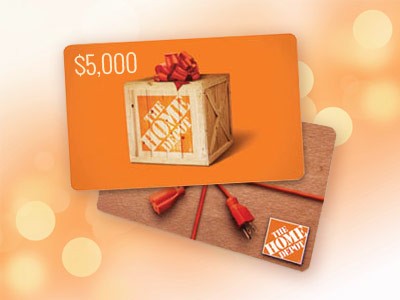 In the U.S. there are two winners each quarter, one is for the "Consumer Category" and the other for the "Professional Category". What category the customer enters is determined by how they answer their employment question. Each winner receives a $5,000 Home Depot Gift Card. Home Depot is also running a separate quarterly sweepstakes in Canada for a chance to win one $3,000 Gift Card. Also Home Depot Puerto Rico is offering five lucky winners per quarter a chance to each win a $1,000 Home Depot Gift Card.
The second quarter sweepstakes for all surveys just recently started on May 1 and runs till July 30. So next time you visit a Home Depot location and make a purchase, check the receipt for your unique user ID and password to enter for a chance to win.
Ready to get started?
Get Your Free Consultation