Olympic themed sweepstakes from Nabisco invites fans to show their bite for a chance to win
February 14, 2018 2:39 pm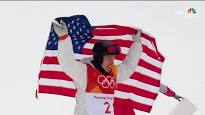 Football is now done for awhile, so have you been watching the Winter Olympic Games taking place in PyeongChang, South Korea? Last night I watched the men's halfpipe competition and saw Shawn White reclaim his title by winning the gold medal. He is now a three-time Olympic champion and he has won the United States 100th gold medal at the Winter Olympics.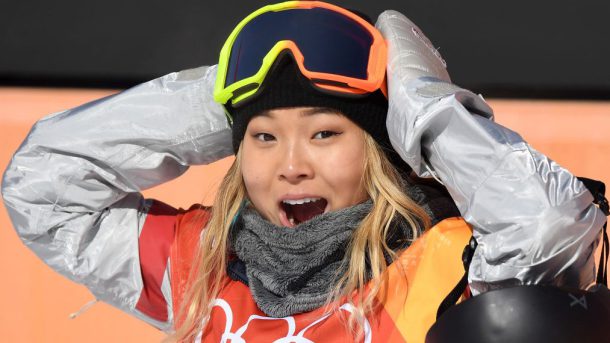 And how about Chloe Kim, the 17 year old snowboarder from the U.S. who couldn't play in the Sochi Games because she was too young. She landed her first gold medal in the women's halfpipe competition the day before in which she dominated the event and ended up with an almost near perfect 98.75 score on her last run. I found myself being so enthused by both these young athletes.
Nabisco is one of the sponsor this year who recently signed a multi-year Team USA official cookie and cracker sponsorship, starting with these 2018 Olympic and Paralympic Game. They were smart enough to grab Chloe Kim, a "2018 Team USA Hopeful Snowboarding" to be included in some of their marketing. Nabisco's theme for its 2018 Olympics campaign is "Can't Miss Moments." "Just like the Games, our brands bring people together — from teammates to roommates, fans to families — to share a moment, big or small," says Stephen Chriss, head of North American marketing activation and partnerships at Mondelez, Nabisco's parent company.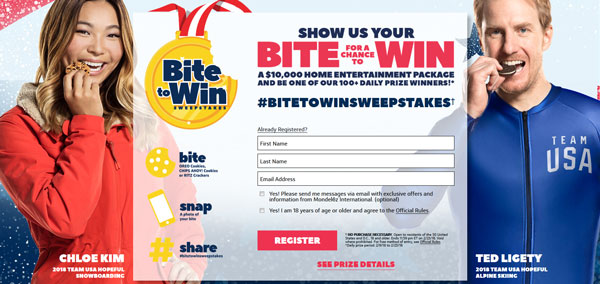 The campaign is focused on three of Nabisco's brands, Oreo, Ritz and Chips Ahoy! It includes TV, digital and social media, a sweepstakes, themed packaging and in-store recipe sampling. The #BitetoWinSweepstakes launched on Jan. 1 and runs till Feb. 25. It offers chances to win a $10,000 "entertainment package" as well as other prizes to be awarded daily during the Games. To enter, participants are invited to "Show us Your Bite"  by submitting a photo of a an Oreo cookie, a Chips Ahoy! cookie or a Ritz cracker with a bite taken out of it. This ties into the Olympians' custom of biting their medals during the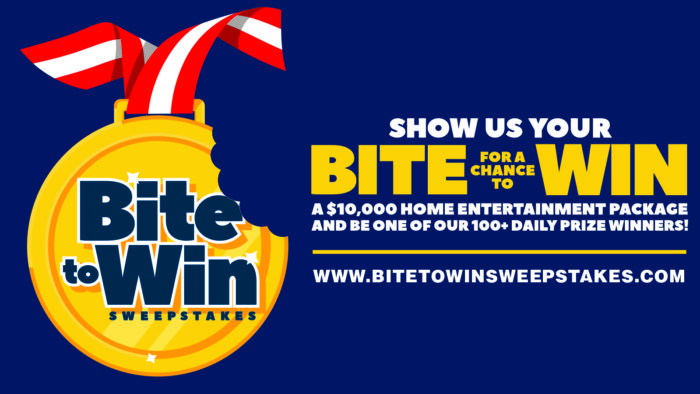 award ceremonies. Nabisco has also provided a photo participants can print out and then take a photo of themselves with this photo in order to comply with the no purchase necessary rule.
Photos can be posted on either Twitter or Instagram using the hashtag #BitetoWinSweepstakes. They can also be posted on Facebook either on the Oreo page, Ritz Crackers page or the Chips Ahoy page by locating the sweepstakes post and then commenting on the post with their photo and the hashtag. Or they can visit the sweepstakes microsite at www.bitetowinsweepstakes and fill out the fields and submit the entry form with their photo. Besides the grand prize there will be daily drawings that will award 17 silver prizes which consists of a silver gear back that includes a camera, Nabisco products and a $25 gift card, as well as 1,700 bronze prizes, a Nabisco-Team USA tote filled with assorted merchandise and Nabisco products. Total value of all prizes comes to $104,350.
Accompanying Chloe Kim on the marketing materials is two-time Olympic gold medalist alpine skier Ted Ligety. Some of the alpine skiing events have been rescheduled because of the weather and high winds. So we have to wait and see when Ted Ligety will get his chance for another medal.
Ready to get started?
Get Your Free Consultation