Battle of the BBQ Sweepstakes from Uncle Ray's invites fans to vote for their favorites
June 13, 2018 3:19 pm
Uncle Ray's Potato Chips is one of our newest clients through our sister company, Alliance Sweepstakes Services, who just started running their Battle of the BBQ Sweepstakes on June 1. They are inviting their fans to vote for their favorite potato chip flavor from the choice of Memphis Style, Carolina Gold, Kansas City or Tex Mex. The sweepstakes will be running till the end of August, but right now according to their website, Memphis Style is in the lead.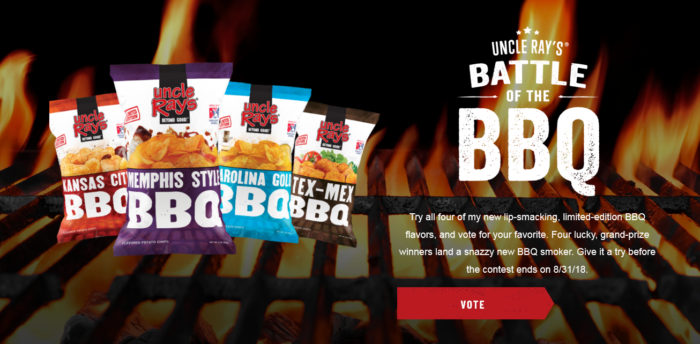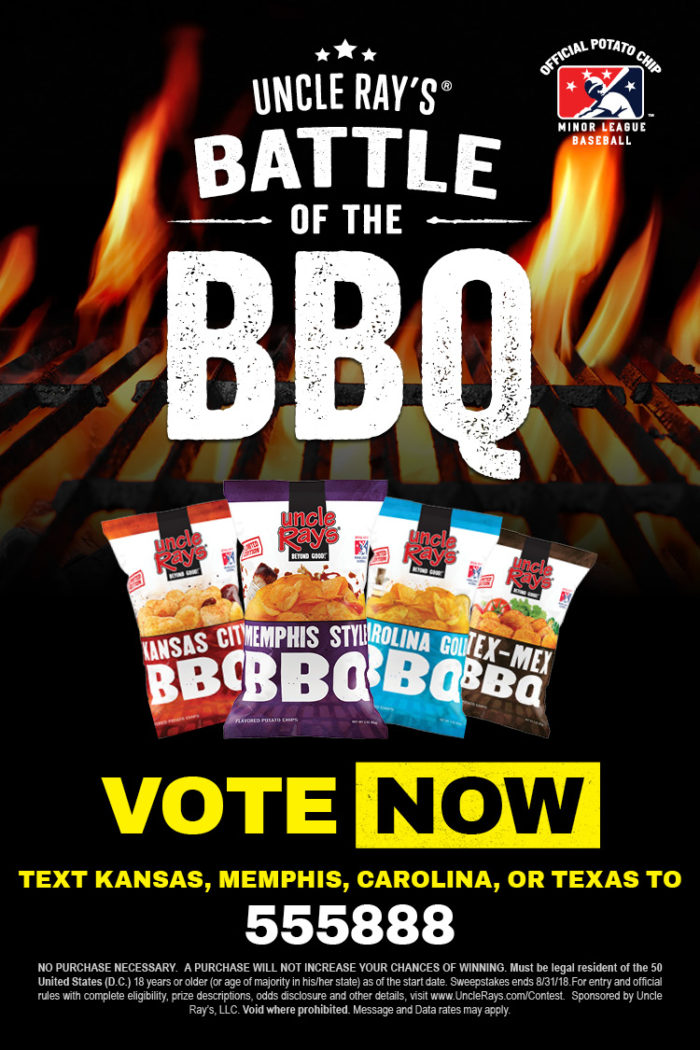 One way Uncle Ray's is offering people to vote is by text message. People can text either KANSAS, CAROLINA, TEXAS or MEMPHIS to the short code, 555888 to vote for their favorite flavor which also gives them one entry into the sweepstakes. Or people can go directly to the website, www.UncleRays.com/BBQ, and fill out the short entry form and select their favorite flavor from the drop down menu in the form. This provides them with one sweepstakes entry. People are encouraged to share their favorite flavor by using the hashtag #BeyondGood.

On the website people also have the option to vote for their favorite minor league baseball team which are also listed in a drop down menu on the entry form. Of the 22 teams listed, the Tennessee Smokies are in the lead right now. Uncle Rays is an official sponsor of minor league baseball so this is one way for them to leverage their sponsorship.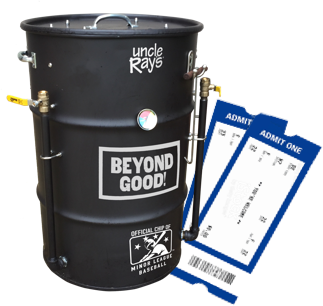 At the end of the sweepstakes we will conduct 5 separate drawings. One drawing will take place from each one the four different flavor pools of entries to determine the four Grand Prize winners. Each Grand Prize winner will receive an Uncle Ray's and Minor League Baseball co-branded meat smoker valued at $900. One other drawing will be conducted from all those that voted for the MiLB team that received the highest number of votes to determine one winner. That winner will receive two 2019 season tickets to that MiLB team which is valued at $1,000.
As the Uncle Ray's website says, "I don't know what you young folks are saying these days. Probably BOOYEAH or THAT'S THE BOMB or some other nonsense. Just tell us what your favorites are and share it with your family and friends. Make sure to say #BeyondGood when you do." So we'll see who gets the most votes. Unfortunately I can't try these flavors because Uncle Ray's isn't available in New York State. They can be found in most states east of the Mississippi except NY and New England.
We have been working closely with Uncle Ray's agency Ignite XDS which has created all of the marketing materials. They will be promoting the sweepstakes on the product packaging, on signage in the minor league baseball parks, through in-park announcements, radio ads and online banner and web ads.
Ready to get started?
Get Your Free Consultation