Breathe Easy Sweepstakes from Poo-Pourri requests participants to produce and post their own videos
May 30, 2018 2:05 pm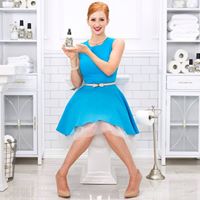 You might have seen some of the very unique video ads that Poo~Pourri has created on YouTube while you're waiting for another video to start. They've produced some very engaing and funny videos to talk about a product that no one really wants to talk about. If you haven't seen this lady in the blue dress who is in the ads and has a nice English accent then click on this link to watch.
Poo-Pourri is a pure blend of natural essential oils that stops bathroom odor before it begins developed by Scentsible LLC. We are currently assisting them with their 2018 Breathe Easy Sweepstakes. They have invited people to show how the chemical-free formula of Poo~Pourri helps them to Breathe Easy by producing and posting their own video for a chance to win up to a $500 Amazon gift card.
Participants can enter multiple ways. They can post their video to their personal Instagram or Twitter account using the promotional hashtag #BreatheEasySweepstakes and tagging @poopourri. They can also post it on Facebook by visiting the Poo-Pourri Facebook page, finding the sweepstakes post and including the link to their video in a comment to the post. There is also this sweepstakes webpage that participants can visit and fill out the sweepstakes registration form and include a link to their video.
There are actually four periods to this sweepstakes and it's now in the final countdown ending tomorrow, May 31st. Each week one random winner is drawn who will receive a $100 Amazon gift card. Once the sweepstakes ends, one Grand Prize winner will be randomly selected from all entries who will receive a $500 Amazon gift card.
We are again using the Shortstack application to assist with this sweepstakes. We have created this online webpage that pulls all the posts from both Instagram and Twitter that have used the promotional hashtag #BreatheEasySweepstakes. I wrote a post last month about two new hashtag sweepstakes we are running for Danmar Equipment that did just that. In their case we are also hosting the promotional websites so participants can enter multiple ways, either on Twitter or Instagram, or through an online entry form. So this is a new feature that we're seeing more and more of our clients using.
We anticipate doing more of these types of promotions that utilize hashtag entries. If you would like more details on how to set up a promotion utilizing the Shortstack application please feel free to contact me. It's a great tool and it also includes a great support team. Hope you enjoyed the Poo-Pourri ads.
Ready to get started?
Get Your Free Consultation