ZTE officially kicks off the Summer of 2019 with their Summer Fun Sweepstakes
June 19, 2019 12:31 pm
A new sweepstakes for ZTE USA just launch this week that our sister company, Alliance Sweepstakes Services, is assisting with.  The ZTE Summer Fun Days Sweepstakes is awarding weekly winners a chance to win a new ZTE phone or a "Summer Fun Kit".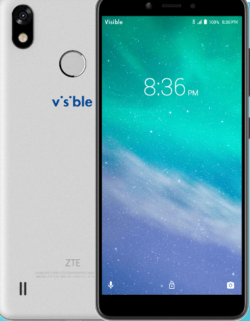 ZTE USA is one of the top five mobile handset and smartphone manufacturers in the world, offering a complete range of mobile devices, including mobile phones, tablets, mobile broadband modems and hotspots and family desktop integration terminals. They currently offer the ZTE Blade Max 2  phone which offers a 6 inch screen, Dolby® Sound DS1 and a large battery and the ZTE Visible R2 phone that has some of the same features, but a smaller 5.45 screen.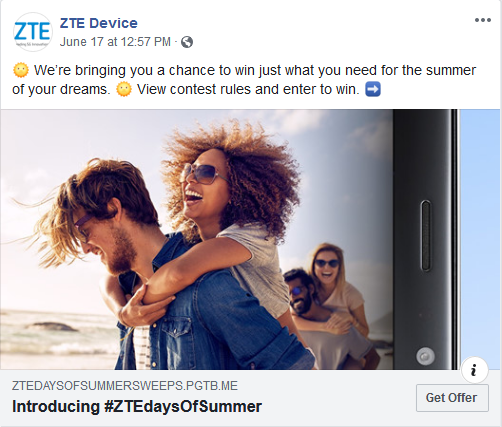 Their goal for this sweepstakes is to attract more fans to their Facebook page, so they kicked off the Sweepstakes with this post that you see here. Once someone clicks on the "Get Offer" button they are redirected to the Sweepstakes entry page that we are hosting for them.
Weekly winners will be drawn throughout the sweepstakes for a total of six weeks.  One winner per week will receive a ZTE phone and eight weekly winners will receive the Summer Fun kit which will include a mix of items like inflatable beach balls, branded towels and other items.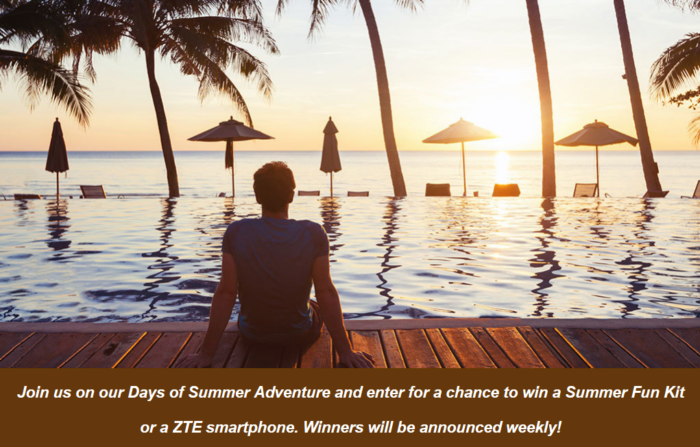 Once people fill in the required fields on the entry form they receive one entry and may come back to enter once a week. By using the Shortstack Application, all of their entry pages are mobile friendly and it includes an easy way to add CSS coding for those of us that don't have much programming experience. If you would like more details on how to set up a promotion utilizing the Shortstack Application, please feel free to contact me. It's a great tool and it also includes a great team of support people.
The summer fun theme enables ZTE to encourage their customers to capture every moment of summer, big or small, with one of their phones. So let the summer of 2019 officially begin this week!
Ready to get started?
Get Your Free Consultation