Win Some Chickenflage with Zaxby's That's a Fact Zax Giveaway!
March 11, 2015 12:18 pm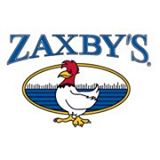 If you live in the southern half of the country, from Texas on up to Virgina, you are then most likely familiar with a chain of restaurants called Zaxby's.  It was started by two childhood friends, Zach McLeroy and Tony Townley, who didn't know much about the restaurant business. But they knew that the chicken in their hometown of Statesboro, Georgia, was just okay, not really fresh or zesty. Plus, none of the local chicken places were fun or had any personality. So they dreamed up Zaxby's. The rest, as they say, is chicken history.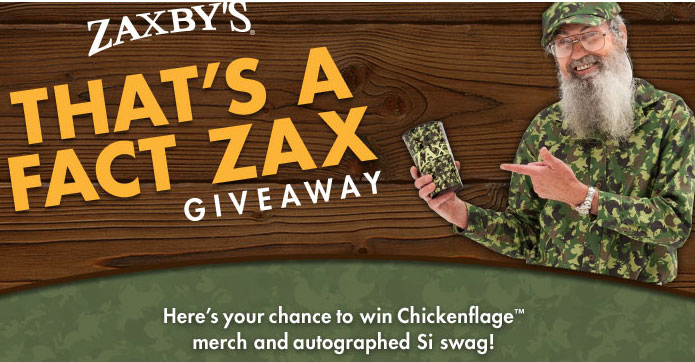 We've been assisting the chain with running their "That's a Fact Zax Giveaway" which started back on January 5 and runs till March 29. Now this promotion isn't giving away any big prizes, like cars or trips or cash. But it is giving weekly winners the chance to win some Chickenflage (short for chicken-camouflage) merchandise and Si Swag! Si Robertson from Duck Dynasty is the restaurant's spokesperson who you see in all their advertising.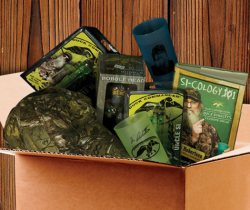 Now being from New York State, I had not heard of Zaxby's or their Chickenflage stuff or that the infamous Si Robertson was their advertising spokesperson. So when we started running the promotion I didn't think that it would be as successful as it has been. But each week 6 winners, for a total of 72 lucky fans, have the chance to win either a Zaxby's T-shirt, cup, mug, bobble-head, duck call or even a Si-Cology Book. At first people where upset and posting comments on Zaxby's Facebook page that they only were offering t-shirt sizes in small, medium and large. So we added X-Large, 2XL, 3XL and 4XL sizes and the fans were very happy. As of now there are about 30,000 total entries. People can enter once a week, so there definitely are some duplicates, but still that amount is impressive.
The other thing that surprised me that while watching the Pre-Game Super Bowl broadcast, I saw a Zaxby's ad. Now again, being in New York where there are no Zaxby's it didn't make sense to me for the brand to spend this kind of money on what appeared to be a national spot. But the boys must think this was a good brand awareness decision. Check out Zaxby's latest TV ad below featuring Si: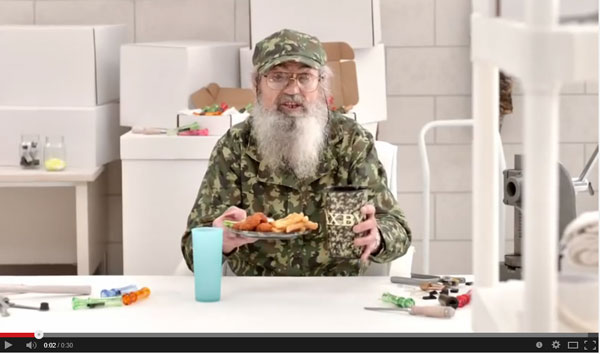 Now we've also been in charge of building and managing the entry form for the sweepstakes. We again are using my favorite app for this, Shortstack. The app allowed us to install the promotion to a tab on the Zaxby's Facebook page and also to host it online so Zaxby's can link to it from their website or any of their advertising. Shortstack has been offering both these options now for the past year along with the option of embedding directly into an existing website. We've also been able to link the promotion up to Google Analytics so the team at Zaxby's agency that we are working with can view all the traffic data in real time which the Shortstack app easily allows you to add.
I wanted to mention Shortstack again here because I was recently made aware that Offerpop, another very popular Facebook application, has changed its billing policy. So those of you that are looking for another resource be sure to check out Shortstack and please let them know that I referred you or just use the links to their website that I've included in this post. I've been working with the team at Shortstack now going on five years and not only is the app great, but the team provides great support.
I'll be visiting Nashville in May since I'll be speaking at the Annual BlogPaws Conference. So I'm just going to have to stop by a Zaxby's restaurant and try some of their amazing chicken! Any big Zaxby fans reading this please let me know what's the top menu item I just gotta order. You got just a couple more weeks left to win yourself some chickenflage!
Ready to get started?
Get Your Free Consultation