Welcome to spring and March Madness. Have you filled out your bracket yet?
March 18, 2015 2:18 pm

The NCAA (National Collegiate Athletic Association) men's Division 1 basketball tournament, also known as March Madness,  is again upon us. This three-week event is a sure sign that Spring is here. This is when fans are placing their bets and filling out brackets, all with the hope of winning some money.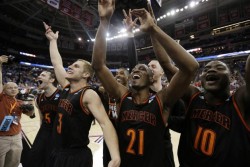 I've never been a big college basketball fan, but I did get caught up in the excitement last year. I was a in a local bar on a Friday afternoon in March after attending a funeral service of a close friend who had recently passed from cancer. So of course all the TV's in the bar where turned on to basketball. This is where we witnessed one of the biggest upsets pulled off by a Cinderella team in an NCAA tournament…. the No. 14 Mercer Bears achieved a 78-71 victory over the No. 3 Duke Blue Devils! I could tell by the excitement of my friends in the bar and what we saw on TV that this was really a big deal. It almost seemed like a sign from the almighty that day.
So this year I thought I should read up on the teams and get a little more involved. My daily morning email from #theSkimm gave me a pretty good overview of the tournament and invited me to join the #SkimMadness bracket, which is actually part of the Yahoo Sports Tourney Pick'em brackets promotion. I went ahead and did what most of our co-workers and friends are doing now and filled out my bracket which Yahoo named for me "Donna D's Glorious Bracket". Yahoo provides a quick overview of each match-up along with each team's standings and a percentage of who picked which team. So I picked mostly the favorites, but tried to include a couple of upsets.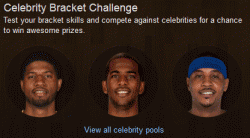 The Yahoo Sports "Big March Promotion" is giving away prizes at the conclusion of the 2015 tournament in two categories. The first is for the "Best Bracket" with a prize of $50,000 that will be awarded to the bracket that receives the highest score (using Yahoo's Default Scoring formula). The second category is for the "Celebrity Brackets" that invite people to join various celebrity pools for a chance to win the prize associated with that pool. All brackets must be submitted before the published tip-off time of the first tournament game on Thursday, March 19 which I believe is noon ET.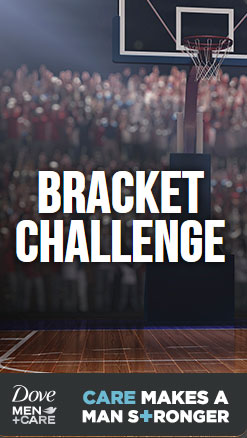 There are so many different bracket challenges that invite people to participate, not just this one. There's this "Official NCAA Bracket Challenge" presented by Dove's Men +Care. The participate of this challenge that has the highest score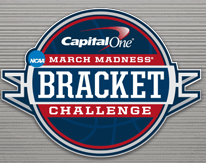 will win four trips for winner and guest to four sporting events of the winner's choice that includes airfare, hotel and tickets to the events. There is also this "Official NCAA Bracket Challenge" present by Capital One that let's you join many groups that they list or create your own group. I also found the Allstate Mayhem Bracket Predictor. I just read this article that states that the chances of picking a perfect bracket are 1 in 9.2 quintillion!
With all these bracket challenges it just proves that the NCAA's March Madness is big money. According to this report in eMarketer, 2014 ad spending was $1,134 million. They claim that TV ad spending has leveled out and more and more of the corporate sponsors are putting their dollars into digital, with heavy emphasis on social media. A recent study by Catalyst states that 72% of US sports fans engaged with college basketball-related content last year on Facebook, and Twitter and Google+ were each used by around four in 10. While Snapchat wasn't included in this study, they will play a part this year with branded sponsorships on its "Our Story" feature during the Final Four round of the championship.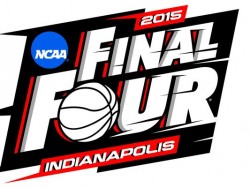 There are 64 teams in the tournament which you can watch the games on TV, online or get the app. These teams compete to make the Sweet 16, the Elite 8, the Final Four and ultimately the Championship game that will be played on April 6 in Lucas Oil Stadium in Indianapolis. You can watch the game on CBS and Turner Sports. At this point if you want tickets to the game, expect to pay top dollar and good luck finding a hotel room or airfare close to the city.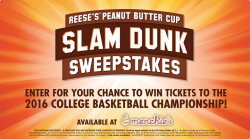 One of our clients, Menchie's Frozen Yogurt, has teamed up with Hershey's, who is a NCAA corporate sponsor, offering a chance to win tickets to the 2016 Final Four games which will be held in Houston, TX, on April 2 and 4, 2016. The Reese's Peanut Butter Cup Slam Dunk Sweepstakes is open to the end of March and is promoting the new flavor made with real Reese's Peanut Butter Cups offered only at Menchie's. We'll be coordinating the trip with the winner, so enter now.
Unfortunately we won't be seeing our Syracuse Orange team in the tournament this year. However, we will be seeing the Buffalo Bulls in for the first time ever. Go Bulls. Could they be this year's Cinderella team?
Ready to get started?
Get Your Free Consultation