Toyota invites people to share a photo of their favorite running spot in their Rock Your Run Sweepstakes
September 22, 2017 2:36 pm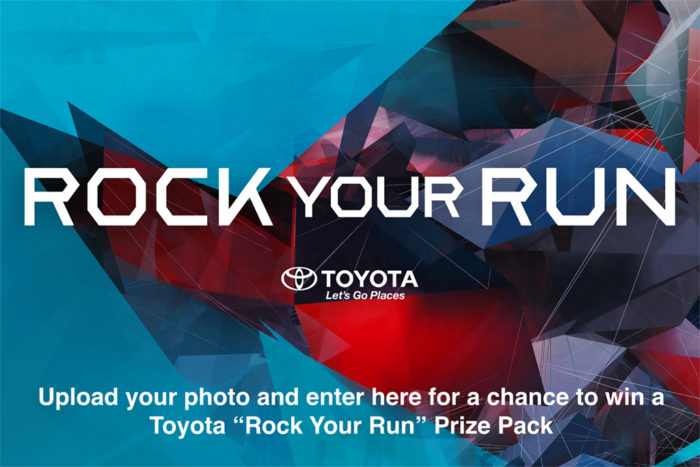 Another promotion that I worked on right before I left on my trip to Italy was the Toyota Rock Your Run Sweepstakes. We've been working through REACH, one of Toyota's experiential marketing agencies, for about the past five years. Earlier this year they came to us for assistance for the Toyota Rock 'N Roll Marathon Sweepstakes which is a year-long promotion which started in March and runs till the end of March, 2018. This is in conjunction with 21 Rock 'N Roll Marathon Expos that are taking place across the country.
This is Toyota's 3rd year as the official vehicle sponsor of the Rock 'N' Roll Marathon Series. Inspired by the pulse of music and the energy of the run, Toyota's theme this year is ROCK YOUR RUN. Runners and their supporters can find Toyota's footprint at the indoor, 2-day Health & Fitness EXPO and again at the Finish Line Festival. During the 3 days, Toyota offers fun games and plays upbeat music, giving out complimentary gifts like a USB fan that attaches to your phone to cool you off and cinch bags with race course that are silkscreened live on-site. Plenty to offer all those involved in the Rock 'N' Roll Marathon Series.
Toyota will also have various vehicles on display at these Expos and attendees will be invited to perform at least three different activities with one of the vehicles to gain an entry. Each Expo awards one winner a prize package valued at $300 which includes a pair of Brooks shoes along with some Toyota and Rock N' Roll Marathon brand swag.

The next Expo is taking place in San Jose, CA, Oct. 6-9 and all are free to attend and open to the public. Each Expo is associated with the Rock 'N Roll Marathon Series races taking place in the same city. These races started in 1998 as a marathon with bands along the course celebrating each participant. The entertainment has made it a music festival weekend that define the Rock 'n' Roll Marathon Series experience. However, the fact that runners have raised more than $310 million for participating charities demonstrates how it has become so much more.  This year the series is celebrating 20 Years Running. Toyota is just one of the many partners such as United Airlines, Michelob, Garmin and others.
The Rock Your Run Sweepstakes is just running in the month of September. Hilary Van Messel, Senior Project Manager at REACH stated "The goal for this promotion was simple: develop a purpose driven contest surrounding a relatable question in order to spark a response from and encourage the Rock 'N' Roll Marathon Facebook community." The sweepstakes is being promoted on various online social channels. Thursday afternoon the official Rock 'N Roll Marathon Facebook page posted this on their page which helped to boost entries:
TIME IS RUNNING OUT, ENTER HERE https://rockyourruncontest.pgtb.me/QdhSst FOR YOUR CHANCE TO WIN. Where is your favorite place to run? Toyota USA invites you to submit a photo of your favorite running destination, trail or path for your chance to win a Toyota Rock Your Run Prize Pack! One photo will be randomly chosen at the end of the month! Good luck and Rock Your Run!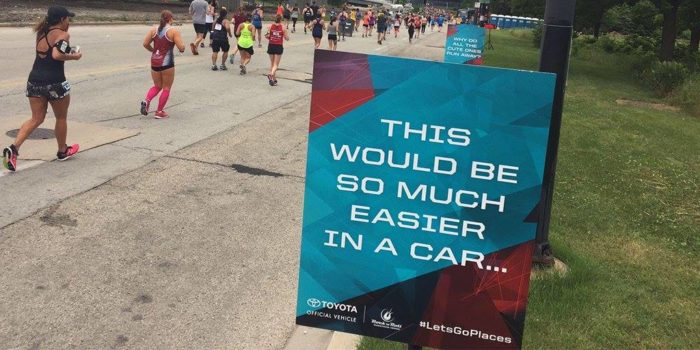 For this sweepstakes we are again utilizing the Shortstack application in which we build the entry form and collect all the entrant's data along with their photos.  I was able to give the Reach team direct access so that they could view the entries and photos in real time. All of Shortstack's entry pages are mobile friendly from the start with Shortstack's "One Campaign for any screen" design philosophy. Recently they have added some new features to the platform that make adding CSS coding very easy for those of us that don't have much programming experience. If you would like more details on how to set up a promotion utilizing the Shortstack platform, please feel free to contact me. It's a great tool and it also includes a great team of support people.
There are some great photos that people have shared with their entries and we're hoping to get many more before the month is out. The prize pack is worth $450. So please check out the sweeps and if you like to run, share your photo.
Ready to get started?
Get Your Free Consultation