This contest from Honest Kitchen is looking for honest pets
August 26, 2015 12:27 pm
I have two dogs, and two cats, I've spoken at or attended most all of the BlogPaws Social Media Conferences and one of my daughters is in veterinary school. Therefore, those that know me and/or follow this blog are aware that I'm a big pet lover. So I came across this pet-related promotion this week that I thought I'd share. I'm going to work on entering for the fun of it.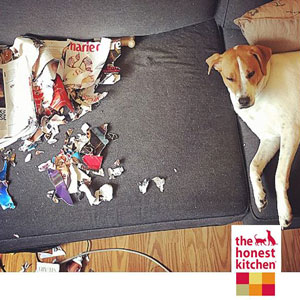 The promotion is from pet food company, The Honest Kitchen, who is looking for the year's "most honest pets." Their Honest Pet Contest is inviting people to upload a photo of their pet with a confession caption from now till September 14. Participant's can enter on their promotional website, honestpetcalendar.com , on Twitter or Instagram using the  #HonestPetsContest hashtag or on Facebook by uploading it to the promotional comment on the Honest Kitchen's Facebook page.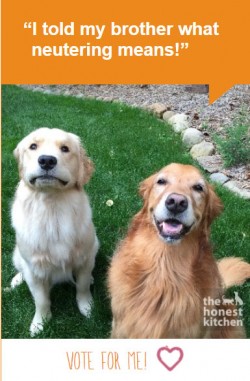 There are no limit to the amount of entries, so there will most likely be many. I've posted a couple of my favorite entries. The public is invited to vote for their favorite on the website and can only vote on a submission once during the entire contest.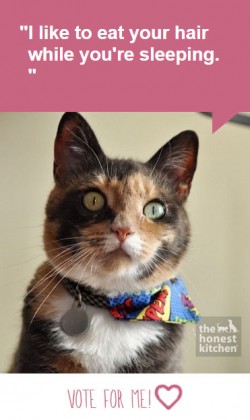 At the end of the contest five finalists will be selected as "Fan Favorites" based on which entries received the most votes. Out of the five finalists, the Sponsor will select one Grand Prize winner who will receive a pet friendly weekend getaway and be featured in The Honest Kitchen's 2016 Pet Calendar. All five (5) finalists will receive Honest Kitchen products.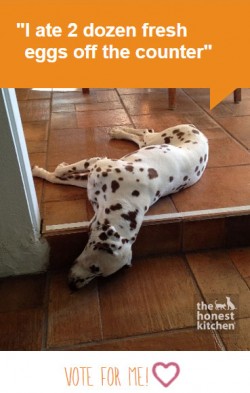 This Grand Prize winner will be based upon the quality of the content submitted and how well it fits the brand. The Grand Prize winner's trip package to a getaway pet resort for two people and their pet includes round trip airfare to San Diego (including a pet fee) along with 3 day/2 night hotel accommodations at the superior, pet-friendly US Grant Hotel, up to $600 in spending cash and drinks with The Honest Kitchen team at Mission Brewery in downtown San Diego and an a tour of the Honest Kitchen office. The Grand Prize if valued at $3,500.
Also each entrant will receive free food samples and coupons from the Honest Kitchen, so even more reasons to enter. Plus I just learned that today, August 26, is National Dog Day! So treat your dog(s) to something special today. They bring so much love and joy into our lives!
Ready to get started?
Get Your Free Consultation