Sweepstakes delivers a mobile, educational game and chances to win free Chipotle for a year!
August 19, 2015 12:53 pm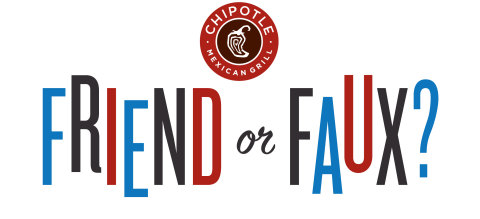 A new mobile-optimized game and sweepstakes from the folks at Chipotle Mexican Grill is currently running called the "Friend or Faux Sweepstakes".  It not only provides entrants with a chance to win free Chipotle for a year, but also gives each entrant a Buy-One-Get-One ("BOGO") coupon for a free Chipotle item value up to $10. This coupon is being delivered to the mobile number that the entrant provided when they initially registered for the Sweepstakes.
So here's how it works. From now till August 31, people are in the contiguous 48 states, 13 years of age or older are asked to visit the Chipotle Friend or Faux website at: http://chipotle.com/friendorfaux.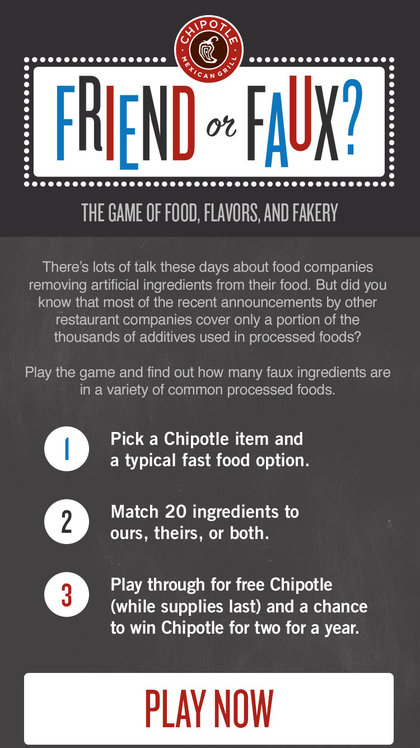 There they are invited to participate in the Friend or Faux comparison quiz. The quiz is an educational game that highlights the differences between Chipotle's ingredients and those commonly used by other fast food brands. Entrants must compare and match 20 ingredients by pinpointing which item contains each ingredient.
"There's been a lot of talk recently about fast food companies removing artificial ingredients from their food, but most of these announcements cover only a portion of the thousands of additives used in processed foods," explained Mark Crumpacker, Chief Creative and Development Officer at Chipotle. "Through 'Friend or Faux,' we are giving consumers an entertaining way to contrast the collective beauty of Chipotle's food with the complex ingredient lists that make up many fast food and packaged food items."
After playing the game, the Entrants are then asked to provide their name and mobile phone number. They will then also have the opportunity to opt-in to receive further mobile text communications from the Sponsor.
Chipotle is also offering an online alternate method of entry for those that wish to enter without taking the comparison quiz. They have provided this additional link http://chipotlesweeps.hit2c.com/friendorfaux that takes them to a standard online entry form.
All Entrants have the opportunity to receive an additional entry into the Sweepstakes if they Tweet about the Sweepstakes via Twitter by using the hashtag #friendorfauxsweepstakes or by sharing the Sweepstakes link via Facebook. A maximum total of 2 entries per person is allowed.
At the end of the sweepstakes 50 Grand Prize winners will receive one year of "Free Burritos for You and a Friend" and 100 first prize winners with a "Catering Party for 20″. Total value of all prizes $91,000.
The mobile game including the BOGO coupon offer is being handled by a company called Vibes Media, LLC. They are also in charge of doing the random drawings for the 50 grand prize and 100 first prize winners. We are currently discussing ways to partner up with Vibes Media in order to offer our clients these types of mobile gaming options to add to our capabilities. Studies have shown that people enjoy playing games on their mobile phones, so it is a trend that we expect to see much more of in the coming year.
Ready to get started?
Get Your Free Consultation