The LET'S FIX IT Challenge offers a chance to win $64,000
October 22, 2014 5:16 pm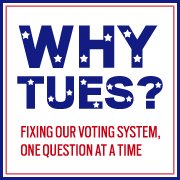 On November 4th Americans will be going to the polls to vote for the 2014 midterm elections. This is where we get to make our choices for members of the Senate, House of Representatives, governors and other elected positions around the country, accept for the office of the President. All 435 House members are up for re-election, while there are 36 Senate races and 36 governors' races.
The past few weeks we've been working with the team that represents Why Tuesday?, a non-partisan, nonprofit 501(c)(3) organization founded in 2005 with a goal to help find solutions to increase voter turnout and participation in elections. In hopes of getting the word out that our voting system is broken and to increase this year's voter turnout they have just launched the Let's Fix It Challenge for a chance at winning $64,000!
Voter turnout for midterm elections are always lower than during a Presidential election. How low will they be this year is the $64,000 question. The Why Tuesday? 2014 Challenge invites participants to predict what percentage of the voting eligible population will vote this Election Day. The promotional website  includes these hints from past years: 2002, 39.5%, 2006, 40.4% and 2010. 41.0%. As a tie-breaker, participants are also required to predict the number of Americans who will vote (Hint: 2002 – 80,295,249; 2006 – 85,769,132; 2010 – 90,745,3989. The source for these numbers can be found at www.electproject.org.
Once participants make their predictions they also have to fill in their name and contact information and submit all the required information. They are encouraged to share the Let's Fix It Challenge on their social platforms and to spread the word about our broken election system. Participants can then also visit fixit.whytuesday.org and sign up to help do something about it!
If by chance that there is still a tie as to both the Turnout Prediction and the Total Vote, then the $64,000 Grand Prize will be divided among the tying eligible Participants. So take the challenge, include your best prediction and help get the word out. Don't forget to vote on November 4th!. Maybe we can get more people to the polls this year than in 2010.
Ready to get started?
Get Your Free Consultation