The Go Get Gifted Contest from Jet Blue is helping to bring families together for the holidays
December 19, 2018 12:55 pm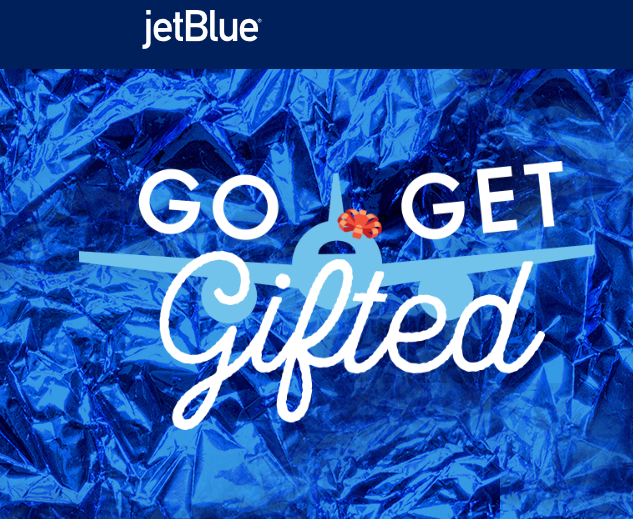 Here's one Holiday promotion that caught my eye this season. It is the "Go Get Gifted" Contest from Jet Blue that invited travelers to enter for a chance to literally become a holiday gift and surprise their families and friends on Christmas Eve. Jet Blue is selecting five winners of this contest and turning them into holiday gifts by gift-wrapping them from head to toe and them flying them home to surprise their family members.
To enter the contest people had to visit the contest website at www.jetblue.com/gogetgifted and follow the directions to complete and submit the online registration form along with their written explanation of "why you'd make the flyest gift". Written portion of entry had to be in English and not exceed 280 characters. Jet Blue was accepting entries up till December 12, so that period has ended.  A panel of judges reviewed all the entries and chose the five winners from the following Judging Criteria: 50% overall creativity of entry: 25% how well the entry illustrates why you'd make the "flyest" gift; and 25% appropriateness of the entry to be used in connection with the JetBlue brand.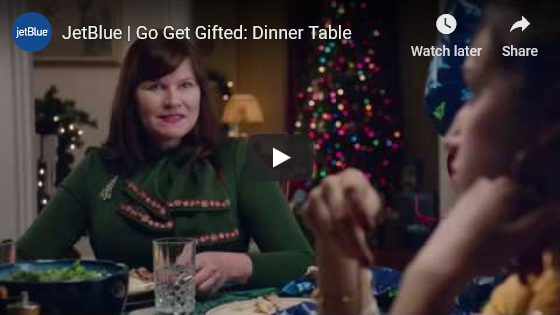 A 30-second spot from MullenLowe shows a family having dinner with one of the family members wrapped up in holiday paper (because of the rule to not open presents until Christmas morning.) A 6-second spot shows the mummified-with-giftwrap family member banging his (her?) head against the front door as a muffled "Mom!" is uttered from beneath the paper. Another 6-second spot shows the gift-wrapped person stealing a bow from another package beneath the Christmas tree.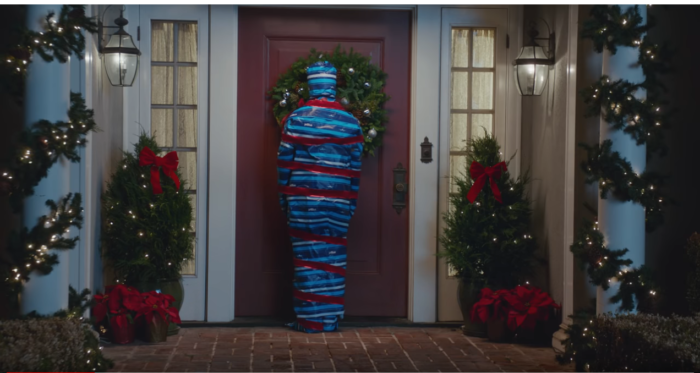 An earlier article from Marketing Daily stated that the contest received more than 153,000 enteries at that time. "It's easy to get wrapped up in holiday shopping, but we know that sometimes the perfect present is your presence," Heather Berko, manager, advertising & content, JetBlue, was quoted as saying in the Marketing Daily artclie. "That's why we created Go Get Gifted, to help customers give their loved ones the best gift this year: themselves."
The prize consists of a JetBlue round-trip flight for two departing on Christmas Eve from a JetBlue airport nearest the winner's location to the "home" destination chosen by the winner to anywhere JetBlue flies, plus ground transportation to winner's "home". Return flights will be scheduled on the winner's choice of December 27, 30 or 31. Upon arrival at home destination, winner and travel companion may be wrapped as a "gift" for delivery. Winners can choose how they would like to be gift wrapped, including wrapping paper print and bow style.
Both my daughters will be flying home for Christmas soon. Both on the Sunday before Christmas, 12/23. So I'm really looking forward to having them home for a couple of days. The best present a parent could ask for! Merry Christmas and Happy New Year to you all. I hope you'll be able to share the holidays with your loved ones.
Ready to get started?
Get Your Free Consultation