The Derby Text-to-Win Sweepstakes celebrates the upcoming 145th Kentucky Derby
March 6, 2019 1:04 pm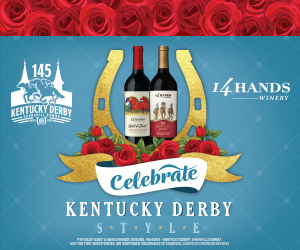 Here's a new text-to-win sweepstakes that just launched. It's called the "Derby" Sweepstakes and it's to help celebrate the upcoming Kentucky Derby taking place on May 4. Last year's winner, Justify, went on to win the Preakness Stakes, then won the Belmont Stakes to also win the Triple Crown title. Justify is now enjoying retirement, so we'll have a new winner this year.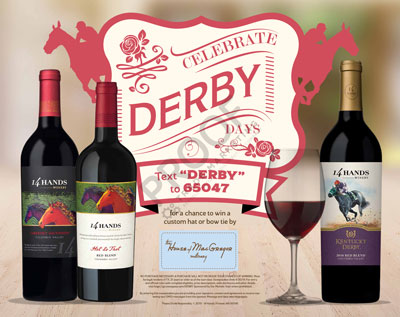 Four Hands Winery is an official sponsor of the 145th Kentucky Derby and their wines are being promoted with this sweepstakes. Their winery is located in Washington state and they claim that 14 Hands wines are inspired by the unbridled spirit of the wild horses that once freely roamed eastern Washington. Measuring just fourteen hands tall — a "hand" equivalent to the width of one's palm — these tenacious little horses would travel down from the hills every day to drink from the mighty Columbia River and graze along the riverbank, then retreat back to cool off at night.  So it's a great brand fit for 14 Hands to be sponsors of the Kentucky Derby.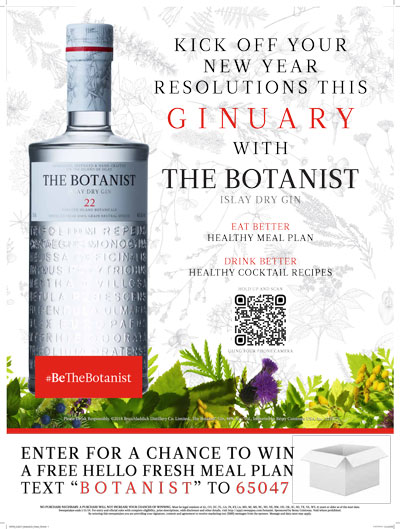 The Derby Sweepstakes is running now till the end of April. To enter participants can text "Derby" to 6507 where they will receive a text message back with a link to a mobile entry form that they need to fill out and submit to earn an entry. At the end of the sweepstakes period we will conduct a random drawing to determine a grand prize winner who will receive a custom hat or bowtie from the House of MacGregor Millinery that is valued at $500.
We have been working with the Republic National Distribution Company, distributors, of these wines. They have produced in-store point-of-sale materials to promote the sweepstakes that consists of a necker that goes on the bottle and display header.  Setting up a text-to-win sweepstakes is a great way to encourage in-store displays.
We worked with the same distributor earlier this year to help promote Botanist Gin with another text-to-win sweepstakes that ran the month of January to help kick off the new year. Here they gave 40 Grand Prize Winners each a healthy Hello Fresh Pre-Packaged Meal Plan valued at $60. They got in return some additional in-store signage as well that you see here.
We hope to continue doing more of these types of mobile friendly promotions as the year goes on!
Ready to get started?
Get Your Free Consultation