The Sky's The Limit Adventure series from Montana Tourism comes to an end with the Painting Glacier sweepstakes
September 28, 2016 1:27 pm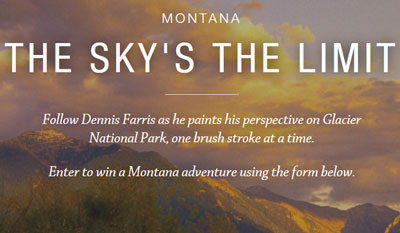 The Big Sky Country stories campaign from The Montana Office of Tourism and Business Development is coming to an end. The campaign was initially launched back in April which I wrote this post about it featuring the Montana's the Sky's the Limit Sweepstakes. They launched part 2 of the campaign in July which included The Sky's the Limit Picnic Sweepstakes.
The last episode in this film series is called Painting Glacier which includes another sweepstakes giving away another Montana adventure. This tourism campaign has focused on telling Montana Big Sky Country stories to draw in visitors. Their short film series features ordinary people who are chasing their own brand of adventure. In this last episode we follow Dennis Farris as he paints his perspective on Glacier National Park, one brush stroke at a time. You can watch the short video about Dennis here.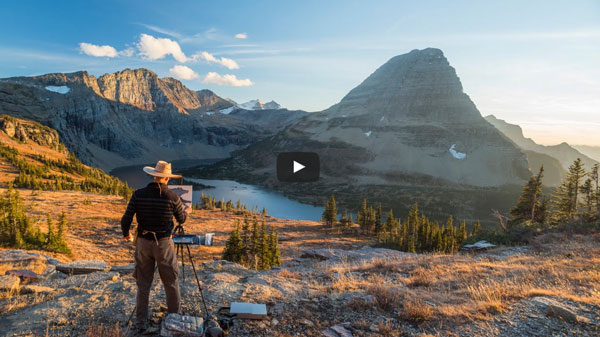 Day 1 of this adventure you arrive in Kalispell, MT and pick up your rental vehicle at Hertz. You explore downtown Whitefish and have lunch at the Buffalo Cafe. Next you visit Whitefish's Going to the Sun gallery to view some local art and and then on to the Montana House gallery in Apgar Village. Your first two nights are at the Village Inn with dinner at Eddie's Cafe and Mercantile for one night and the Glacier Highland Restaurant for the other.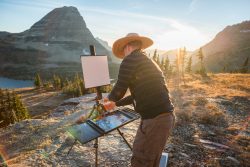 Day 2 you hop on a Red Bus Tour of the West side of Glacier National Park and then have Lunch at Rising Sun's Two Dog Flats Grill. Day 3 you start with breakfast at Eddie's Cafe and then drive to Swiftcurrent Lake for an afternoon of boating, hiking or relaxing in the sun. You spend your third night in a cabin at the Swiftcurrent Lake Motor Inn and dine with the rest of camp at Nell's, the inn's onsite dining room.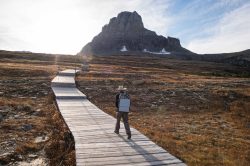 Day 4 your Glacier National Park experience ends with a winding drive along historic Going-to-the-Sun Road to the East side of the park. Along the way are sights including Logan Pass, St Mary Falls and Sunrift Gorge. Dinner is at Many Glacier Hotel where you spend you last night.
There were almost 18,000 entries for the first sweepstakes, Open Road, in which the grand prize was awarded to a Susan Masterson from Winterhaven, Florida. The second sweepstakes, Picnic had  over 20,000 entries, and the grand prize was awarded to Ryan Baughan from Lupton, Michigan. So we'll soon see who is the lucky person to win this last adventure
Ready to get started?
Get Your Free Consultation