Pepsi and Bud Light continue their Super Bowl sponsorship and sweepstakes promotions
January 11, 2018 12:10 pm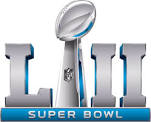 I started writing about the NFL playoffs last week with this post that featured one sweepstakes we're assisting with that is tying into the football season. Us Buffalo Bills fans got a huge New Year's present when the Bills finally ended their playoff drought by winning a Wild Card spot in the AFC, which was their first time in 17 years. They played the Jacksonville Jaguars last Sunday and lost 10-3. Us Bills fans would have loved to see the Bills win this game, but after a year with a brand new coach and general manager along with losing some key players, we're pretty amazed that they got this far.
So the road to Super Bowl LII now continues without the Bills. I will be covering some of the ads and promotional campaigns associated with Super Bowl LII here on my blog, which has been one of my yearly traditions. This year the game will be hosted on February 4, in the U.S. Bank Stadium in Minneapolis, the new home of the Minnesota Vikings. There now are only eight teams left in the postseason hunt.  Here's what the NFL playoff picture looks like.

Some are saying the Patriots are the favorites to win again. Others say that the Vikings have an edge since they'd be playing in their home stadium. Others think the Steelers have a great chance of beating the Patriots to make it to the championship game. We'll just have to wait and see.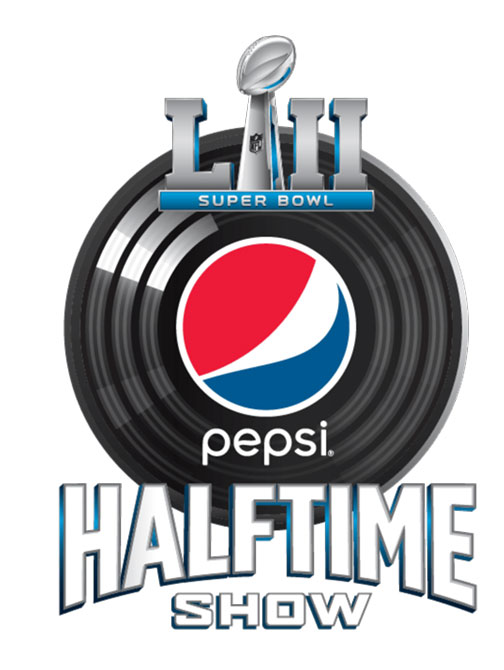 Pepsi is again the sponsor of this year's Halftime Show. The Pepsi Super Bowl LII Halftime Show will include Justin Timberlake this year. It's his second time as a halftime show performer, back from the now infamous wardrobe malfunction with Janet Jackson in 2004. It was recently announced that Pink will sing the National Anthem this year which we hope that during this she will be the center of attention and not who's kneeling or not kneeling.
Pepsi was running the Super Bowl LII Trip Sweepstakes which was offering a chance to win a trip to Minneapolis including end zone tickets for the Big Game, admission to a Super Bowl party, transportation, and more valued at $7,800. This sweepstakes is now ended. They now are running a promotion where if you purchase $20 of any PEPSICO products, which includes all their brands such as Pepsi, Doritos, Tostitos and Mountain Dew, you can get $20 back in product coupons by mail.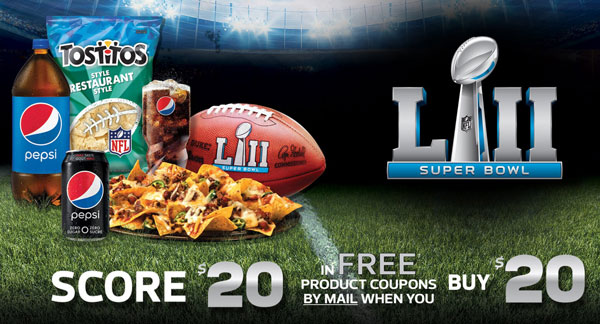 Another big NFL sponsor, Bud Light, is also awarding tickets to the Super Bowl and is back with their Super Bowl Tickets for Life Sweepstakes. Participants have a chance to win a trip to this year's Super Bowl Game along with three guests and also receive four tickets to every Super Bowl game during their lifetime, up to 30 years. The Grand Prize is valued at $195,300.  Participants have to look inside specially- marked packages of Bud Light for a code and then visit budlight.com/sbtix4lifethe and enter the code into the entry form. They can also enter without the code online or they can text SBTIX4LIFE to shortcode 50563 to receive an entry.The chance to enter to win the Grand Prize ends soon, 1/14. First prize winners have up til 1/22 to enter for a chance to win one of 2,000 Bud Light Super Bowl LII hats.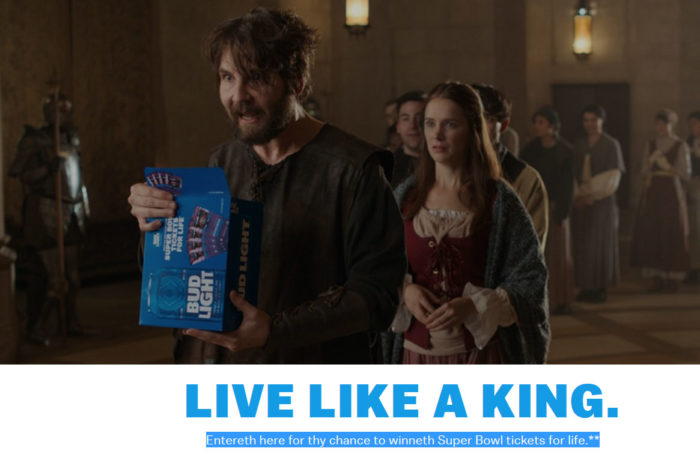 The sweepstakes will be promoted in a TV spot that will continue to utilize it's "Dilly Dilly" phrase with its "Game of Thrones"spoofing creative. The entry form states "Live Like A King. Entereth here for thy chance to winneth Super Bowl tickets for life." The "Dilly Dilly" phrase was first used by Bud Light in August, in a "Banquet" ad under the brand's "Famous Among Friends" marketing platform. That spot has been viewed more than 1.64 million times on Bud Light's YouTube page. The brand has used the catch phrase in other creative several times since. Back in November, Pittsburgh Steelers quarterback Ben Roethlisberger gave "Dilly Dilly" the kind of free publicity brands love when he shouted it out during a game against the Tennessee Titans.
Stay tuned for more coverage as the road to Super Bowl LII continues.
Ready to get started?
Get Your Free Consultation