Skittles and Snickers launch Super Bowl LII Rivalry Sweepstakes & Instant Win Game plus some Super Bowl teaser ads are released
January 18, 2018 2:28 pm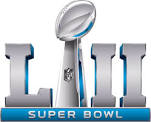 Last weekend, the Minnesota Vikings pulled off a last second, amazing win against the New Orleans Saints with an unbelievable touchdown by Stefon Diggs. The Jacksonville Jaguars pulled off a big upset against the Pittsburgh Steelers, who most thought would be the team playing the New England Patriots this coming weekend after the Patriots beat the Tennessee Titans. And the Philadelphia Eagles did win against the Atlanta Falcons. So the NFL Playoffs continue and the road to the Super Bowl LII now looks like this:

Some information about this year's Super Bowl ads are starting to come out. Pepsi is bring back Cindy Crawford in an update of their classic 1992's spot. The new 30-second ad is named "This Is the Pepsi," and also features Crawford's 18-year-old son, Presley Walker Gerber. Parent company, PepsiCo, will also be running two consecutive 30-second ads for its two of it's products, Doritos Blaze and Mtn Dew Ice, in one single 60-second slot during this year's Super Bowl.A teaser video (below) promises a face-off between actors Peter Dinklage and Morgan Freeman, representing Doritos Blaze and Mtn Dew Ice.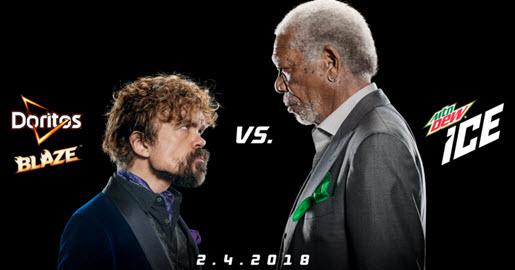 Last Super Bowl was the first year that Doritos hadn't advertised during the Super Bowl. They ended their 10-year run of their "Crash the Super Bowl" contest that invited consumers to create ads. I started writing about this promotion back in 2009 with this post. Mountain Dew's last Super Bowl ad was 2016's "Puppymonkeybaby" — a spot that ranked high in performance of the game's ads.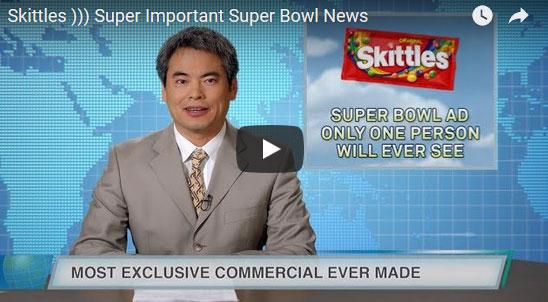 Skittles is also back this year, but in a different way. They won't be running a commercial during the Super Bowl, but instead they are creating a "real, multimillion-dollar Super Bowl ad," featuring a celebrity that they haven't revealed yet. However, this ad will be viewed by just one Skittles fan, Marcos Menendez, a 17 year old from Canoga Park, Calif., who,  according to the brand, was chosen because he's a real Skittles fan. Facebook viewers will get to see Menendez's reaction as he views the 60-second ad for the first time which will be livestreamed on Skittles' Facebook channel on Super Bowl Sunday.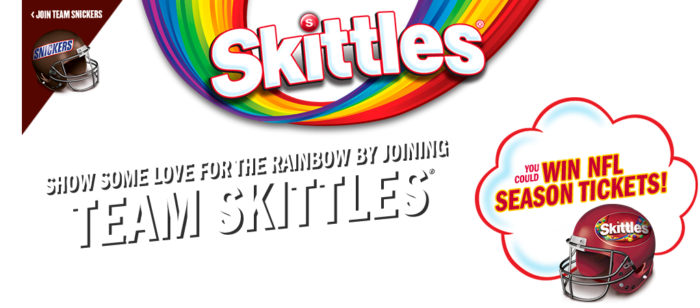 They have also partnered up with the Snickers brand in running the Super Bowl LII Rivalry 2018 Sweepstakes and Instant Win Game Promotion. This promotion started in December and runs till February 28. People can enter by texting the word "SNICKERS" or "SKITTLES" to 87654  to receive one entry into the Grand Prize Sweepstakes Drawing, and have one opportunity to win an Instant Win prize that is based on their time of entry.  People can also enter online at www.teamskittles.com or www.teamsnickers.com . Two grand prize winners will each win 2018 season tickets to an NFL team of their choice valued at $5,000 each. The Instant Win prizes consists of 100 Electronic Arts/Madden NFL Game, 250 Team SNICKERS® and Team SKITTLES® Tailgating Kits, which include a Knit Hat and a Coffee Tumble, and 25,000 coupons good for a free pack of Skittles and a free Snickers bar. Total value of these instant win prizes comes to $100,000!
Stay tuned next week for more coverage as the road to Super Bowl LII continues.
Ready to get started?
Get Your Free Consultation