Gold Rush DirtCar Giveaway Sweepstakes from DirtCar USA is back for a 2nd year
August 1, 2018 2:51 pm
The Gold Rush Dirt Car Giveaway is back again and in the middle of it's second year. Once again, DirtCar USA is giving away another race-ready dirt modified car. The car has been built by Harris Auto Racing and is powered by a Mullins Race engine. Also added to this years giveaway is over 50 racing products that will be secondary prizes valued between $50 to $600!

To enter this sweepstakes people are invited to purchase any of their race car parts at DirtCarUSA.com. For every $10 they spend on the website they get one entry into the sweepstakes for that month. Then each month, which started in March and ends in December, we draw five entrants who will be that month's winners. DirtCar USA then will conduct an additional drawing via a Facebook Live event on their Facebook page, www.facebook.com/DirtCarUSA, to determine the monthly prize that each winner will receive. Here's how that works:
First name drawn: Fifth place monthly winner receives a prize with minimum value of $50
Second name drawn: Fourth place monthly winner receives a prize with minimum value of $100
Third name drawn: Third place monthly winner receives a prize with minimum value of $150
Fourth name drawn: Second place monthly winner receives a prize with minimum value of $200
Fifth name drawn: First place monthly winner receives a prize with minimum value of $250 PLUS they will also receive one entry into the Finalist Grand Prize Drawing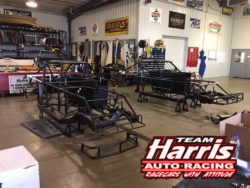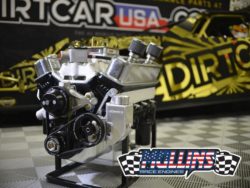 One Grand Prize drawing will take place on December, 31, New Year's Eve, from all the ten monthly Finalist winners. This drawing will also be conducted by DirtCar USA via a Facebook live event on their Facebook page. Each monthly Finalist winner will receive confirmation on when the final drawing will be held and invited to view the event.
The Grand Prize winner will receive the Race Car which will have been driven in several races during the 2018 calendar year. The next one on their schedule is the Dirt Knights race in Spencer Iowa and the Harris Clash race at Deer Creek Speedway, August 6th and 7th.
Because we are requiring a purchase to enter the sweepstakes, we also are providing an alternate means of entry without purchase which is by mail. The rules include the information required to mail in along with the mailing address. We have received many mail-in entries which continue to come in each month. So my assumption is that some sweepstakes newsletter must have picked up the information about this sweepstakes and posted it to their website. However, we also have been receiving many entries that have come from the website.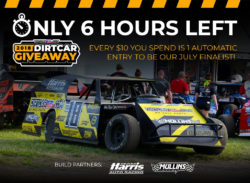 We will be doing the next drawing with all the July entries this coming Monday to determine this month's five winners including the one finalist. DirtCar USA sent out an email yesterday on the last day of the month to encourage people to enter for July which is shown here.
So if you're a race car fan, you can still enter for a chance to win in the next 5 monthly periods! An entrant can only win one prize per monthly drawing but may win additional prizes each month during the Sweepstakes period. Last year's grand prize winner was a very happy guy, Nathaniel Webb from Ohio!
Ready to get started?
Get Your Free Consultation