FIFA World Cup themed Mobile Game Promotion from the Coca-Cola and 7-Eleven Team
July 11, 2018 1:43 pm
As we get close to the World Cup final game the excitement is building this week so I thought I'd write about a big promotion that I read about that is currently going on.

Coca-Cola brands and 7-Eleven have teamed up for the second time for the convenience store chain's largest-ever in-store promotion around the World Cup tournament. More than 61,000 7-Eleven stores in 14 countries are participating, including 9,100 stores in the U.S. This time, the promotion features a "Predict A Score" game and sweepstakes requiring use of the retailer's 7Rewards customer loyalty mobile app.
While the promotion is global, it has a local flavor in each country with unique products and promotions. The participating countries include Canada, Mexico, Japan, Thailand, China, Hong Kong, Philippines, Indonesia, Malaysia, Denmark and Sweden. In the United States, specially marked "Share a Coke" cans at participating 7-Elevens have unique codes under their tabs that can be used to play the "Predict and Score" game in the retailer's loyalty app. These include exclusive 16-ounce soda cans featuring a QR code that shoppers can scan to access exclusive content such as mobile wallpapers for smartphones, a 2014 FIFA World Cup mobile game and a link to the 7-Eleven mobile application. Also available on 7-Eleven shelves in the United States during July are size-5 commemorative soccer balls featuring the 2014 FIFA World Cup and Coca-Cola trademarks.
"The QR code brings an added-value experience to our guests," said Margaret Chabris, director of corporate communications at 7-Eleven Inc., Dallas, TX. "The customer scanning the QR code not only gets the exclusive 2014 FIFA World Cup wallpaper, but also access to a mobile FIFA World Cup Game on the Coca-Cola Ahh.com Web site, and instructions on how to download the 7-Eleven app for lots of fun and exciting offers."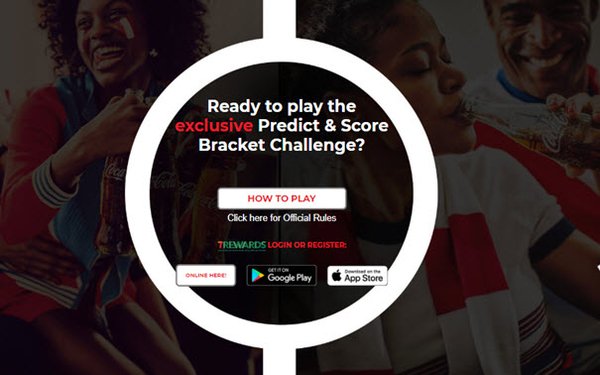 Players can also earn 7Rewards points redeemable for select items at participating 7-Elevens, plus chances to win prizes and a sweepstakes grand prize of $50,000. For Coca-Cola, which has been sponsoring the FIFA games since 1978, the promotion is one of a score of sales-boosting efforts tied to the tournament. Each week through July 15, a bracket featuring upcoming games and teams appears in the 7-Eleven app. Each time 7Rewards members choose their picks to win in a given week, they earn 10 points, plus five points for each correct prediction. Only one game code may be entered per week.
Players who predict correctly can also move up the leaderboard after each week's winning soccer teams are determined. The four players at the top of the leader board when the championship game concludes on July 15 will win prizes that include a $2,000 Delta Vacations gift card, $1,000 and $600 Best Buy gift cards, and a year-long sports streaming package. The next five players in the ranking will receive 10,000 7Rewards points. Thousands of 7Rewards points will be awarded to the balance of the top 300 players. All game winners and eligible entrants will be entered into the sweepstakes which continues through Aug. 31 for a chance to win the $50,000 grand prize.
Ready to get started?
Get Your Free Consultation