Father's Day Game Sweepstakes from Brookstone
June 4, 2014 5:37 pm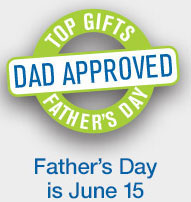 June is the month known as the time for "Dads, Grads, and Brides".  I do love this month. The days are long, the gardens are all in bloom and we still have the whole summer to look forward to. However, this June I am not invited to any weddings (went to one in early April that was really fun). I also am not attending any high school graduation parties…most of the kids we know are now college grads. But I can still celebrate dads!
I was born in the Bronx and lived there the first five years on my life. My dad would take me to ball games at Yankee Stadium as I was his first child. My dad loves the sport of baseball, but he never was a Yankee fan. In fact he hates the Yankees and instead has always been a Boston Red Sox fan. So like father like daughter, I was raised as a Red Sox fan from the Bronx!
Now the guys I work with are both Yankee fans which causes some banter in the office about the games. So when one of our clients, Brookstone, came to us with this Father's Day promotion they wanted our assistance with, my colleague Matt said that I just had to write about this on the blog. So here it is.
In case you weren't aware, Brookstone is the "Official Father's Day Store of the Boston Red Sox". They are currently running a Father's Day Sweepstakes offering a chance to win the ultimate Father's Day gift: A Brookstone massage chair and four Green Monster seats at the Red Sox June 15th Father's Day game.  Unfortunately for me though the sweepstakes is only open to fans in New England! They can enter at www.redsox.com/Brookstone up until June 11. Brookstone is also promoting it on their Facebook page. The online entry form has an optional field to enter your mobile phone number to receive text messages & updates from redsox.com and MLB.com.
I have been lucky enough to sit in Green Monster seats at Fenway Park a couple of seasons back. Another client of our was a sponsor of the games that year and gave me a couple of tickets. Sitting up there I said to my husband, Do they really hit the ball up here? Of course as soon as I said that David Ortiz hit one just a couple of seats to our right.
My dad now lives down south in the Myrtle Beach area, so we haven't been to a game together in awhile. I keep trying to get him to visit "Up North" by offering to get us a couple of tickets, but he hasn't taken me up the offer yet. Instead we talk on the phone each weekend and we discuss how good or how bad those Red Sox are doing. Last year they came from last place to end up in first place. This year is looking like they may end up back in last place again. But we'll see. The season is still young.
Happy Father's day to my dad, my husband and to all the dads out there this year. Don't forget to wish them a special day on June 15th!
Ready to get started?
Get Your Free Consultation