Big Prizes to be awarded in the Krazy Glue Big Fix Sweepstakes
June 11, 2014 5:06 pm
If you want to drive people to enter your sweepstakes or contest promotion then if helps if you offer a good prize. As a promotion's sponsor you should always have a prize that is relevant to your target audience and enhances your brand. Cash prizes are relevant to all types of people and still ranked as the number one prize that draws the most participants.
The Krazy Glue "Krazy Big Fix" Sweepstakes is offering a chance for one lucky grand prize winner to receive $40,000! We'll be drawing the name of this winner around January 5,2015. Here's how it works:
Krazy Glue is inviting participants to submit a photo or a description of something they fixed using Krazy Glue. There are three ways to enter: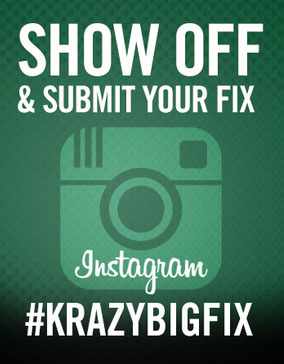 1. Online at www.krazybigfix.com by completing and submitting the entry form. Participants need to describe their fix in writing and choose which Krazy Glue product they used from a drop-down menu. They then have the option of uploading a photo of their fix or including a link to their video posted on YouTube.
2. On Twitter by posting a tweet of their fix and using the hashtag #crazybigfix.
3. On Instagram by uploading a photo of their fix and using the hashtag #crazybigfix.
All eligible and approved submissions are being displayed on the promotion's website. There is a counter on the website that currently claims there are 237,315 submitted fixes since the sweepstakes launched on April 2. You can sort the fixes by type on the website. Currently there appears to be a good mix of submissions f
rom all the different ways to enter. However, I don't see any videos submitted as of yet. Here's one of my favorite that was posted on Twitter with a photo of "cat" boot stuffers.
Besides the $40,000 grand prize, there are also monthly prizes being awarded. Each month is a different prize. The current June prize is a Galaxy Tablet. Last month we awarded a GoPro Camera and the previous month a Bose Speaker System.
Monthly drawings are done around the 5th of the month from all eligible entries from the preceding month. The grand prize drawing will include all eligible entries received from the start to the end date which is December 31, 2014. Participants can enter one time per method of entry. So if they enter by all three ways, they can have up to three entries total during the entire promotion period.
From the looks of how many great entries we've received so far, we should have many more by the end of the year. This promotion not only gives Krazy Glue a great database of customer names and contact info. It also provides valuable insights into how consumers are using their products and what social media platforms they are utilizing. Well worth the $40,000 plus in prizes I would say!
Ready to get started?
Get Your Free Consultation