Families are invited to submit images for a chance to appear in Kraft's Super Bowl ad
January 31, 2018 1:32 pm
Super Bowl Sunday is this Sunday, which will feature the New England Patriots (again) vs. the Philadelphia Eagles. Super Bowl LII will be played in Minneapolis in U.S. Bank Stadium and televised this year on NBC with kick-off at 6:30 pm ET. This year a 30 second spot aired during the game runs between $5 million to $5.2 million, and that's not including production costs and agency fees. That does seem pretty astronomical, however, brands get millions of extra views online on YouTube, Facebook and iSpotTV. Last year's #1 online spot from Budweiser, "Born the Hard Way", received 8.2 million views according to iSpot.TV.

Some of this year's new ads have appeared online this week. Here's the full M&M's ad featuring Danny Divito and here's the Pizza Hut Pre-Game ad featuring Terrell Owens. I wrote about both these campaigns in last week's blog post.
This week Kraft announced their Super Bowl plans along with a teaser ad that they are running now and leading up to the game. They are attempting to run a promotion that will award the winners by featuring them and their families in the Kraft game day ad which will run during the second half. This is by no means an easy thing to pull off. Here's how it will work.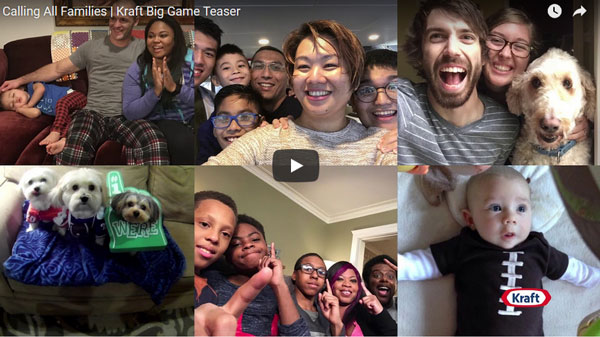 The promotion opens for submissions early Sunday morning at 6:30 am ET. Kraft is asking families to share on Instagram and Twitter how they're celebrating the big game using the hashtags #FamilyGreatly and #KraftEntry. People can submit either a photograph or a video, no longer than 15 minutes. Kraft and its creative agency Leo Burnett Chicago will be reviewing the submissions as they come in to begin putting the 30-second spot together. A separate ad will air just before kickoff to remind viewers that they still have time to submit. The window for submissions will close at 8:30pm ET. The full official rules are posted here.
"Throughout the course of the day, we'll be looking at all the activity that's occurring with those hashtags and really having an eye to family-generated content that showcases different types of families and types of activities," said Anne Field, director of brand building for Kraft. "We've thought through some of the executional elements like the music, but we'll really be making the ad in real time on that day."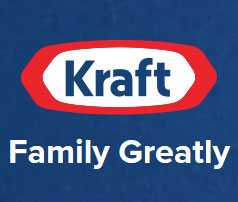 People can pre-register here for the Kraft #FamilyGreatly promotion here where they can authorize their Twitter and/or Instagram accounts so that if their image is selected, they can be contacted quickly. People need to check their email and social media accounts throughout game day. If they are contacted they need to provide their full name, email address, city, state, and ZIP code. They also need to provide first name(s) and a valid email address for each person (or parent/legal guardian) included in the photograph/video. Plus they must agree to provide the Sponsor with all the rights to use the content submitted and to let the Sponsor incorporate it into other works, in any form,  for promotional or marketing purposes worldwide.
This promotion is an extension of Kraft's 'Family Greatly' campaign, which launched last month with this video that featured real parents discussing the impossible standards they set for themselves when it comes to parenting. The aim of the campaign is to encourage parents to stop putting so much pressure on themselves to be perfect. Rather than being product-specific, the 'Family Greatly' effort promotes all products that fall under the Kraft brand name, including its macaroni and cheese, mayonnaise, line of salad dressings, shredded cheese and barbecue sauces. By uniting its portfolio of offerings under one overarching tagline, the company is hoping to strengthen what the Kraft brand stands for.
I'll be watching the game and waiting to see how this ad turns out. I'm sure they will be getting thousands of submissions, so they must have a huge team of people on hand to review them all. Maybe I'll submit a photo and then keep checking my Instagram account throughout the day. Check back here next week for a Super Bowl recap.
Ready to get started?
Get Your Free Consultation