Pizza Hut offers a free pizza promo tied into Super Bowl LII. M&M's launches sweet teaser ad & social media dance contest.
January 25, 2018 2:35 pm
We watched the NFL championships last Sunday and surprise, surprise, the New England Patriots are going to the Super Bowl for what seems like the millionth time. They came from behind to beat the Jacksonville Jaguars and Tom Brady's hand was working fine. The Patriots will go up against the Philadelphia Eagles. They have been underdogs all post season since they lost their first string quarterback but still worked their way into the playoffs. They've never won a Super Bowl but the last one they did make it to, they lost to the Patriots.

Unfortunately we won't get to see the Minnesota Vikings play in their home field, U.S. Bank Stadium. It's a dome stadium, so we don't have to worry about the weather affecting the game on February 4th.  The hype has definitely begun and more information on promotions, ads, and some new teasers, have been coming out this week.

Pizza Hut recently announced a free-pizza promotion tied into a Super Bowl player's performance. Their goal is to drive people to sign-up for their Hut Rewards loyalty program.  Retired NFL star, Devin Hester, holds the current record for the fastest touchdown in the history of the Super Bowl, which was 14 seconds into the 2007 game. So if that record is broken during Super Bowl LII, everyone who is a member of Hut Rewards before the game's kickoff will have their accounts credited with a free, medium, two-topping pizza. Devin Hester appears in the promotional ad featured here.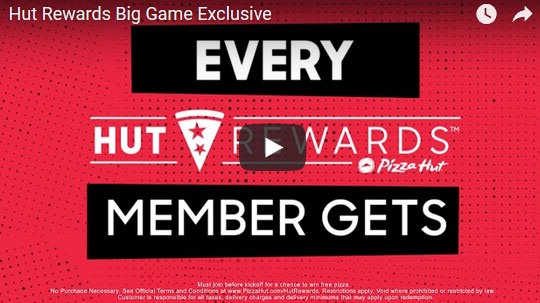 M&M's just-released this sweet 15-second Super Bowl ad teaser video featuring Danny DeVito dressed as a red M&M, literally swimming in chocolate. "We felt that Danny DeVito brought the perfect amount of humor needed for this year's Super Bowl spot, and we know our fans will be delighted to see how he interacts with some of our beloved spokescandies," said M&M's brand director Allison Miazga-Bedrick.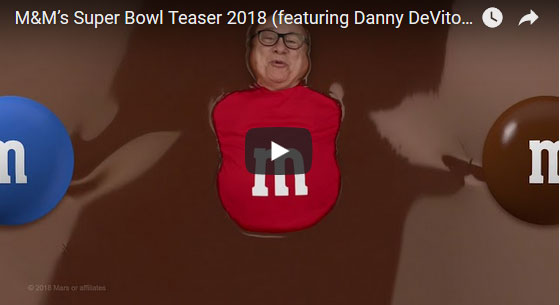 Also as part of M&M's return to running a 30-second commercial during the Super Bowl, they have launched a social media contest. The brand is asking people to record their best touchdown dance while featuring M&M's candy, and to post the videos on Twitter, Facebook or Instagram. Videos need to be tagged with #MMSuperBowlLIIDanceContest and be no longer than 15 seconds. Four winners will receive a Super Bowl party pack, a football-shaped goodie chest filled with M&M's candy and other branded products valued at $150.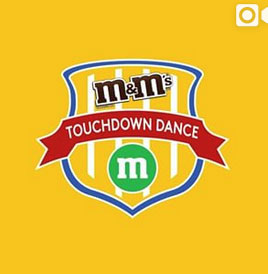 M&M's is getting around the "No Purchasing Necessary" requirement by stating in their rules that "Purchasing M&M's candy is not required as Entrant may find M&M's candy displays in stores or may simply write "M&M's Candy" on paper and creatively include that depiction in the entry".
There are four voting rounds with one winner chosen per round. The third round just ended and they're now into their final round that just started today. A panel of judges will review all the entries and select two semi-finalists  per round based on the following criteria: Entertainment Value, Humor, and Originality. M&M's is inviting people to vote on all the two semi-finalists by visiting their Instagram Story at @mmschocolate. The winner will be determined by the one that receives the highest amount of votes.
Stay tuned next week for more coverage as the road to Super Bowl LII continues.
Ready to get started?
Get Your Free Consultation