Check in to Club CITGO for a chance to win free gas for a year
April 5, 2017 12:38 pm

We're all hoping that the cost of gas remains holding pretty steady for the rest of this year. But who wouldn't want to win free gas for a year? We're working again with the team at CITGO to assist with their Club CITGO Free Gas for a Year Sweepstakes. This promotion will be running all year with one lucky winner per quarter. They way it works is through the Club CITGO App.

Participants in 26 eastern states, plus D.C., are invited to download the app and set up a personal Club CITGO account. They will each receive a Free Gas for a Year Sweepstakes notification altering them each quarter that the sweepstakes is open for entries. Those users can obtain daily entries via the app Check-Ins. A Check- In is measured by the entrant's mobile device being within 400ft of the tracking hardware installed at a participating CITGO location.The tracking hardware uses GPS and the entrant must have GPS/Location Services enabled. If an entrant is within the 400ft distance, they can obtain one entry by clicking the 'Check-In' button in the app sidebar. The sweepstakes rules do allow for an alternative means of entry by mail for those participants that may not want to use their data or have a mobile phone.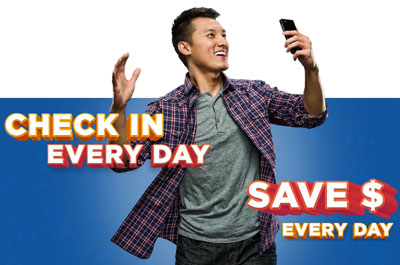 Entrants are allowed to Check-In daily for multiple chances to win. At the end of each quarterly sweepstakes period one lucky grand prize winner will receive $2,500 worth of CITGO gas cards, which should be enough for a year's worth of driving. Besides the sweepstakes, participants can check-in every day to earn extra perks and rewards to save on in-store items such as their favorite snacks, drinks as well as gasoline.
We've also been working with CITGO on various text-to-win sweepstakes that invite participants to enter by just texting a keyword to gain an entry. We recently wrapped up the Win a Hockey Game Night Experience Package Sweepstakes in which participants entered for a chance to win tickets to a Chicago Blackhawks hockey game. Two winners received four 100 level seat tickets and two winners received four penthouse suite tickets. All winners also received a ride on the ice resurfacer.
So we are seeing more and more sweepstakes using mobile as a means of entry. Most lawyers will still tell you that using data to enter a sweepstakes may be construed as consideration (purchase) and you should include another method of entry without purchase. However, no claims or lawsuits have yet to be filed. So it is all according to what level of risk that your company is comfortable with. As more and more mobile providers offer unlimited data plans we'll see if that will change anytime soon.
Ready to get started?
Get Your Free Consultation