BlogPaws 2015 Conference Recap from Nashville
June 3, 2015 2:25 pm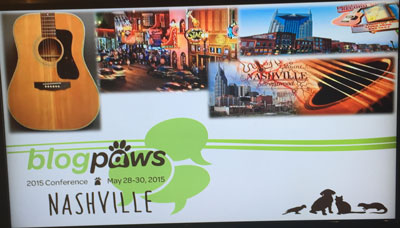 Just back from Nashville and the 7th BlogPaws Conference which was again another great event. I got to present on Saturday, day 2 of the conference, on Key Legal Developments in Sweepstakes, Contests and Social Media. Even though I was one of the break-out sessions scheduled after lunch, we had a good turn-out with some great questions from the audience (along with a couple of shout-outs from a few dogs!). I will be uploading the presentation to our LinkedIn profile here www.linkedin.com/company/american-sweepstakes-&-promotion-company if interested.
For those that are not familiar, the Blog Paws Conference is catered to pet bloggers to help them grow and learn social media skills. But it is also a great event for anyone interested in building their brand online. It's the only conference were you'll find some attendees wearing cat ears along with those that have brought their dogs and cats and this year, ducks, pigs, ferrets and even a rat! So I wanted to share here a few of the highlights and photos of the conference.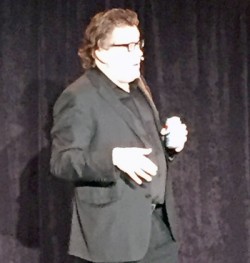 One of the speakers I was really looking forward to was Peter Shankman, a PR and social media marketing  consultant, speaker, author and founder of Help a Reporter Out, who took the stage as Friday morning's keynote speaker. He was very engaging and had us all laughing pretty hard. This was the third time I heard him speak and was glad to that he is still saying that one of the key rules today in the world of media and marketing is "Transparency". I've been repeating that rule in many of my own presentations ever since. Peter used the new Periscope app to live tweet part of his presentation on Twitter, so I decided to do it as well. It was one of my first times using this new app. I was able to upload here it to YouTube. So take a look, this excerpt quite funny.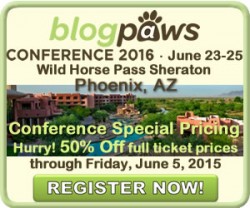 The BlogPaws team is still tallying some of the final numbers they were able to donate to various local shelters, but they stated last night in a Twitter Chat (#BlogPawsChat) that approximately $18k in cash, 27k+ lbs of food and over $5k in product was donated from #BlogPaws 2015! Next year's conference was announced to be held in Phoenix, June 23-25. You can click on the image to register.
Please enjoy some of the photos I took of a few of this year's pet attendees! Hope to be back next year!
www.linkedin.com/company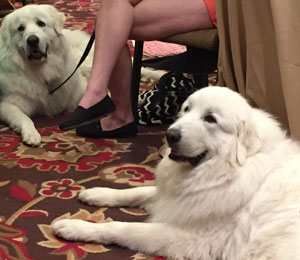 /american-sweepstakes-&-promotion-companywww.linkedin.com/com
pany/american-sweepstakes-&-promotion-company
Ready to get started?
Get Your Free Consultation