Amped Up Giveaway Summer Sweepstakes from St. Pete/Clearwater
July 8, 2015 10:08 am
Hope everyone had a great 4th of July Holiday. We realize that many people have taken this week as vacation to add on to the holiday and may be at the beach or the lake. So here is another summer getaway promotion that we're administering that I thought I'd share that is a great example of  how to promote your destination or brand. And, it just may give you ideas on where to vacation next.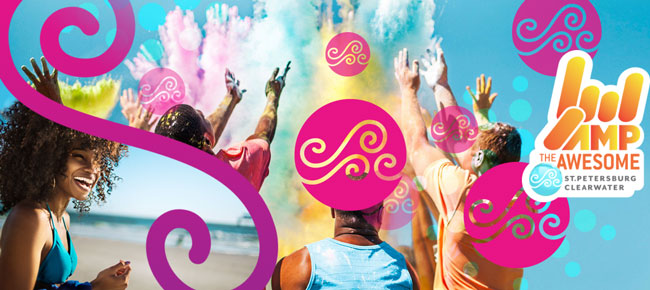 Visit St. Pete Clearwater is running  The Amped Up Giveaway – Summer Sweepstakes which ties directly into their Amped Up summer theme. They are promoting their destination with this "Live Amplified in St. Pete/Clearwater" video that includes their theme song "Solar Power". You can view the video here on YouTube.
The sweepstakes is offering a chance to win one of 4 monthly "Amped Up" vacation packages which started on June 1 and runs till the end of September. Each package is slightly different, but they all include round-trip airfare, 5 nights hotel accommodations and a St. Pete/Clearwater swag bag. Here are some of the prize packages: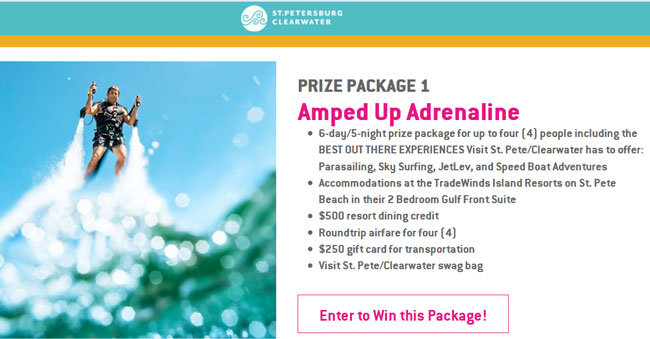 Amped Up Adrenaline Package – This is the only package that is for up to 4 people (all others are for 2 people) and includes the "Best Out There Experiences" Visit St. Pete/Clearwater has to offer: Parasailing, Sky Surfing, JetLev, and Speed Boat Adventures. Accommodations at the TradeWinds Island Resorts on St. Pete Beach in their 2 Bedroom Gulf Front Suite and a $500 resort dining credit.
Amped Up Art & Shopping Package –  An "Art and Shopping" escape that includes tickets to The Dali Museum, Museum of Fine Arts, and Chihuly Collection including VIP access/tours and a $1,000 gift card to pick up a piece of local art. A $500 gift certificate to Sundial St. Pete along with suite accommodations at the Renaissance Vinoy and a $500 resort dining credit.
Amped Up Sea & Food Package – The "Best Gulf Charter Boats and Seafood Grub" Visit St. Pete/Clearwater has to offer: a dolphin watching cruise from Dolphin Landings, St. Pete Beach, a dinner cruise on StarLite Cruises and scrumptious grub at Frenchy's Rockaway Grill. Suite accommodations at the Hyatt Regency Clearwater Beach Resort & Spa and a $500 resort dining credit.
Amped Up Sunsets & Suds Package – The "Best Rooftop Sunset Bars & Breweries" Visit St. Pete/Clearwater has to offer. Nightly limo transportation to suds and sunset for four days to various bars and restaurants along with  accommodations at The Birchwood Inn in a Premium King- Park View with Balcony room and a $250 gift card.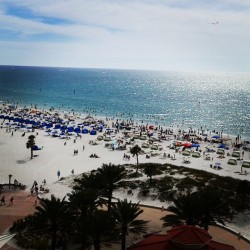 St. Pete/Clearwater list 13 different white sand beaches in their 35 mile area, a different beach to fit any mood. It is the only destination in America with two beaches in the Top 10 of TripAdvisor's 2015 Traveler's Choice Awards of the Top U.S. Beaches, which is based on millions of traveler reviews. There's laid-back St. Pete Beach, which landed at No. 2 on the list, and bustling Clearwater Beach, which checked in at No. 8.
The first monthly winner for June has already been drawn and contacted. So we have one very happy winner so far with three more to come. Participants can enter each month for a chance to win since each monthly entry period starts over. Check out the website now. I hope you can take the time to find your beach this summer.
Ready to get started?
Get Your Free Consultation