US Open Highlights: Serena vs. Venus and American Express daily ticket giveaways
September 9, 2015 2:08 pm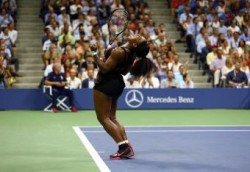 I watched the much anticipated quarterfinal of the U.S. Open between Serena Williams vs. her older sister Venus last night. Serena is now only two wins away from a Grand Slam after a 6-2, 1-6, 6-3 win over Venus. We got to witness some high-quality tennis from both athletes, with Venus not going down without a fight.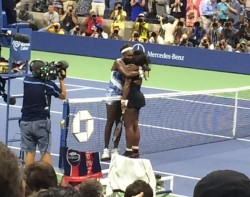 It was the 14th anniversary of the sisters' first-ever meeting at the U.S. Open. I can't begin to imagine how hard it must be all these year's competing against your own sister. Serena was quoted as saying that she has to concentrate on playing the ball and not the person. A victory for Serena this weekend would be the 22nd Grand Slam win of her career, tying her with Steffi Graf for the most wins in the Open era.
American Express is a longstanding sponsor of the US Open Tennis Championships. This year they launched a new experience to help bring the excitement of the US Open into midtown Manhattan in addition to on-site promotions at Flushing Meadows in Queens. The US Open Live at Rockefeller Center began on Saturday, August 30 and ran till Sunday, September 7. This area between 50th and 51st street was transformed into a center court with stadium seating, a Jumbotron screen where fans enjoyed broadcasts of each day's games, concessions and a number of other "fun for the fans" activities — all free and open to the public.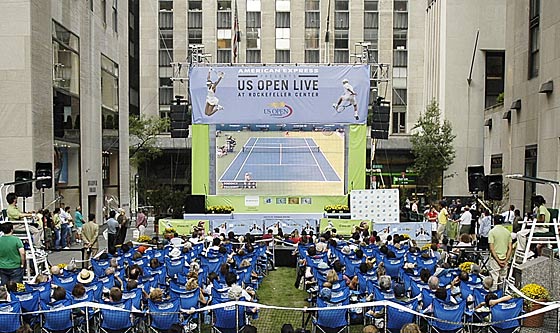 "The US Open is a premier event that people around the world look forward to and this year more tennis fans, New Yorkers and American Express Cardmembers can enjoy the experience," said Nancy Smith, Vice President Global Media and Sponsorship, American Express.
In conjunction with its US Open Live at Rockefeller Center, American Express also ran the "From Rockefeller Center to Flushing Meadows" Sweepstakes. A daily drawing was held that enabled a Cardmember a chance to win a pair of courtside-level tickets to that evening's matches. The prize package also included limousine transportation to the USTA National Tennis Center and a Be My Guest Card for complimentary dining. Additional pairs of tickets were also awarded. Cardmembers were able to enter the drawing from 11:00 a.m.- 2:00 p.m. daily at the guest information booth.
Good luck to Serena. We'll all be watching this weekend and cheering you on. It's an exciting weekend in sports…US Open Finals, first week of the NFL season and the boys of September are fighting to make the playoffs.
Ready to get started?
Get Your Free Consultation