Sweepstakes invites us to text WARM to Kiss the Cold Goodbye
February 18, 2015 1:56 pm
Another blast of arctic cold is supposed to swoop down on us this week and bring sub-zero temperatures back along with more snow! It's been hitting a good portion of this country this month, but those of us in New York and New England have seen the worst of it with Boston breaking historical records. Enough is enough already!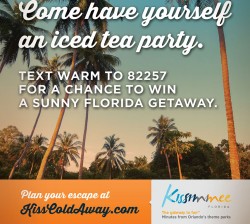 So the only thing to do is get on a plane and head south. The team we're working with at Experience Kissimmee is taking full advantage of this cold winter weather. They're running the "Kiss the Cold Good-bye" Sweepstakes for chances to win a Sunny Florida Getaway. The sweepstakes is specifically targeting those in Boston and New York.
Participants can easily enter by texting the keyword "Warm" to the shortcode 82257 which prompts them to enter their email address to complete their entry. Once completed they receive one more message which thanks them for participating and asks them to reply YES to subscribe to future SMS messages from Experience Kissimmee. Utilizing sweepstakes is a great way to grow a database of mobile subscribers.
The Sweepstakes launched on January 12 and runs till April 12. Each week we're conducting a random drawing for one winner who will receive a "Box of Sunshine" that includes a Kissimmee tote bag packed with flip flops, an alligator plush, sunglasses, orange gum, sunscreen, chapstick, a pool towel, a bluetooth speaker, a drink koozie, a beach ball and a swirl lollipop.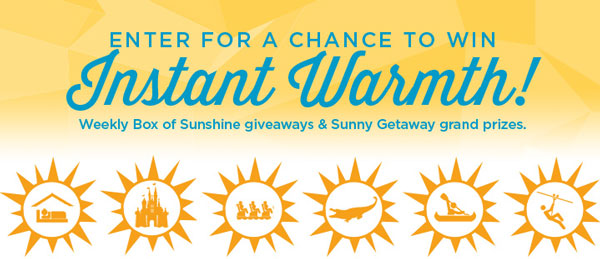 Then four times during the Sweepstakes period a winner will be drawn to receive a Kissimmee getaway for winner and up to 3 guests which includes round trip airfare tickets, 6 day/5 night hotel accommodations, a vehicle rental and a bunch of activities such as park tickets to Walt Disney World's Magic Kingdom and Universal Orlando Resort and also tickets to Orlando Tree Trek, Boggy Creek Airboat Rides and a 2-hour guided tour for the Paddling Center. We've already awarded one of these trips, so there are 3 more left!
For those that would like more information they can visit online at KissColdAway.com to plan their own getaway and enter the sweepstakes as well. Participants can enter once every 24-hour period for a chance to win. Each week, as the weather gets worse and worse, the entries keep growing. Last week was another record breaking week with 28,770 entries.
Experience Kissimmee has been running ads in these select markets to create awareness of the sweepstakes. Here's a taxi ad that's running in Boston. Hopefully the taxi's are helping people get around Boston that can't get their car shoveled out. A similar ad in also running in New York City.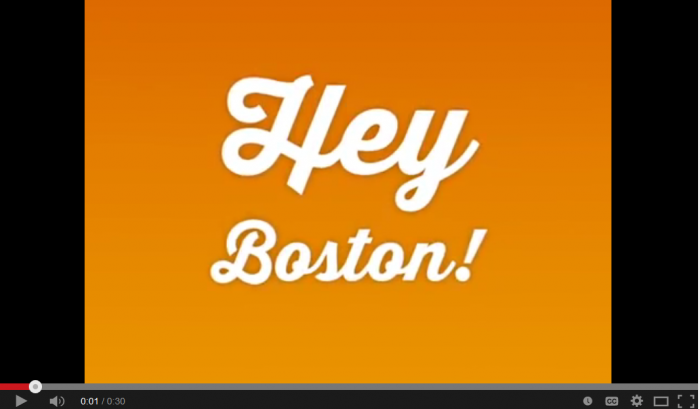 We just awarded a trip to Florida for another sweepstakes and the winner, who was from Connecticut, wanted to know if she could go next week! That's how much we all want to get away from this winter right now.  Good news is we're in the second half of the month of February and more then ready to Kiss it Good-bye! So hang in there!
Ready to get started?
Get Your Free Consultation