Sweepstakes helps to kick off Breast Cancer Awareness Month
September 23, 2015 11:38 am

We're already seeing some "Pink" promotions as we get closer to October. This year we are working with the YSC, Young Survival Coalition,  a national organization that supports young women facing breast cancer.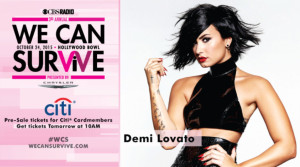 They just launched the YSC "We Can Survive Concert" Sweepstakes that will award a trip for two to attend the "We Can Survive" concert taking place in the Hollywood Bowl on October 24. This will be the third annual concert put on by CBS Radio. The concert will feature live performances by Maroon 5, Sam Smith, The Weeknd, Calvin Harris, 5 Seconds of Summer, Demi Lovato, and Nick Jonas. The last two shows were sold out.
"In just its third year, WE CAN SURVIVE is widely recognized as a must play event for today's biggest artists," said Chris Oliviero, Executive Vice President of Programming, CBS RADIO. "The line-up gets bigger and better every year with hit performances, talked about collaborations, and surprise guests. Fans can expect all that and more this time around."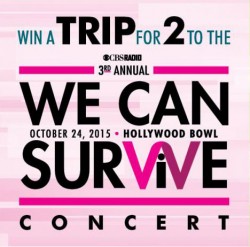 In honor of National Breast Cancer Awareness Month, for every ticket sold, $2 will benefit the Young Survival Coalition. This year Oakley is sponsoring the sweepstakes and covering the cost of the grand prize. The trip includes two round-trip economy airfare tickets,  a two night hotel stay along with two tickets to the We Can Survive concert.  Women who were diagnosed with breast cancer by the age of 40 can enter the sweepstakes up until October 7. They have to visit the YSC website and answer a few short questions regarding their diagnosis.
CBS Radio is also giving away some tickets to the concert along with a trip to Los Angeles through their website Radio.com and through select CBS RADIO stations.
My mother, unfortunately, did not survive breast cancer, although she was diagnosed at one time as "cancer free". While she was not a young woman when she was first diagnosed, she did leave us way too young. So in honor of my mom and National Breast Cancer Awareness Month, I am very grateful to help support this cause and promote this event.
Ready to get started?
Get Your Free Consultation