Sweepstakes, Contests, Disclosure & Digital/Social Media Updates from the Annual Marketing Law Conference
November 12, 2014 7:53 pm
The BAA/PMA 36th Annual Marketing Law Conference opened up last Thursday morning, November 6, to what we were told was another record turn-out for attendance. Linda Goldstein from Manatt, Phelps & Phillips, LLP, started us off that morning with this statement "Digital is the conduit of consumer touch points. It has become the sand on how we connect with consumers. Consumers have become the marketing media. Devices make it possible, but they still need the personal connection to make it happen."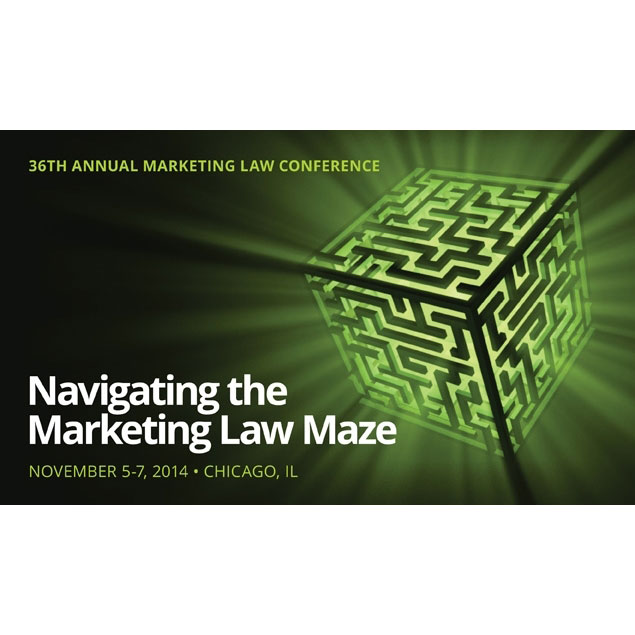 Linda spoke to us for about 90 minutes on the subject titled "Key Legal Developments in Marketing/Advertising Law Affecting Sweepstakes, Contests, Privacy, Disclosure & Digital/Social Media". As usual her talk was extremely informative and entertaining. Linda is widely recognized as one of the leading lawyers on this subject and what she shares with us each year at this conference is thought of as the bible that we in the industry follow.
We first reviewed what is an "Illegal Lottery", a promotion that contains all 3 of these elements: Prize, Chance (random selection) and Consideration (Purchase, Payment or Time). The Time element of Consideration is still the most gray area. Most social media entry requirements do not usually have consideration. However, writing about a product or taking a photo or video of the product to enter may be consideration.
For example, if you can take a photo of yourself with the product in the store then a purchase would not be required. But, if you're asked to take a photo of yourself with the product (in this example shoes) and be "out and about the town" that would most likely require purchasing the shoes and therefore, consideration. Fine line between the two, huh? Another example is when Dunkin Donuts asked participants to take a photo of themselves taking a bite of a donut. They can't return the donut then, so wouldn't that require purchase as well? You need to ask if the consumer can effectively compete without actually purchasing the product.
The degree of effort by consumers that is being required to enter is currently a big trend in social media sweeps. Participants can earn extra entries from performing  different tasks and challenges. So how much is too much time and how much effort can you really require? The Supreme Court did rule that watching a 30 minute show isn't too much time, so that's a guideline. But keep in mind that while awarding bonus entries for sharing/referring may not likely to be deemed consideration, it may be against CAN/SPAM regulations or the FTC's endorsement guidelines.
I was waiting to hear what Linda would say this year regarding whether text and data charges still constitute consideration. And similar to last year, she shared that there is still no definitive answer on this. There has been no regulatory action or challenges to date. Only case still is the class action lawyers who have challenged the premium text promotions. Linda stated that 75% of entries are now being done through mobile, but still recommends an AMOE (alternate method of entry) when offering text entries. No legal basis however can really be enforced since Wi-Fi is regularly available, however when offering text as a method of entry you should still state that data rates may apply and participants should consult their mobile providers.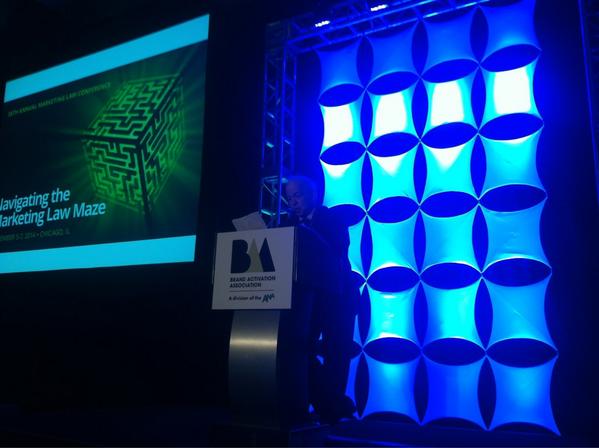 Linda, along with some other great speakers we heard from throughout the conference, shared with us many more insights on various topics . It was noted many times that Facebook's no like-gating policy that I wrote about in August finally went into effect on Nov. 5. Also there was more discussion on the FTC's updated Endorsement and Testimonial Guidelines that I wrote about when the FTC investigated the Cole Hann Pinterest Contest back in April. The take-away is that if the act of pinning, tweeting, or any use of videos, photos, etc. may constitute an endorsement, then the use of the sweepstakes/contest title alone in the hashtag is not adequate. You must also include #Contest or #Sweepstakes or a similar designation.
I'd like to wrap up this post with some quotes from both Linda and Ron Urbach from Davis & Gilbert LLP who spoke to us on the last morning of the conference. Ron stressed the challenge today of being an effective marketing lawyer in an era of rapid change. "Real-Time Marketing needs Real-Time Lawyering… a balance between practical insight and business sensitivity." Today all of us in this marketing industry need to consider the risk, but also be realistic. Linda ended her presentation with this thought "The currency today is not money; it is consumer engagement and their content. But it is full of risks, and we must guard the waters."
I will hopefully be headed back to next year's 37th Annual Marketing Law Conference to meet up with everyone again at the Downtown Chicago Marriott in November, 2016. The BAA/PMA did a great job again this year and I'm sure next year will follow the same high standards. Yes, if anyone is curious, I did purchase some new boots this year from Nordstrom.
Ready to get started?
Get Your Free Consultation