Super Bowl Wrap Up: McDonald's was Lovin' all the ads
February 5, 2015 9:06 pm

Super Bowl XLIX, along with all the hype and marketing, is now history. Congratulations to the New England Patriots on their win. I'm a Buffalo Bills fan and therefore not a Patriots fan, but I was glad to see them win this championship. As they say, "may the best team win" and in my opinion they did.
The broadcast of the game on NBC broke the record for U.S. TV viewing at about 114.4 million, which does not even include all those extra fans that watched the game at sports bars and Super Bowl parties all from the same TV's. It topped last year's record of 112.2 million on Fox and is the seventh straight year it reached over a million viewers. The halftime show, which featured Katy Perry, Missy Elliot and Lenny Kravitz, also set a viewing record, with 118.5 million viewers. To put this in context, the opening ceremony of the Olympic Games this year only had 31.7 million viewers.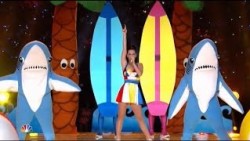 Speaking of the Olympics, when did the Super Bowl Halftime show get as big as the opening ceremony of the Olympic games? I'm not a Katy Perry fan, however I agree she does have talent. The show was pretty amazing, fireworks and dancing sharks! Yes, Missy Elliott as they say knocked it out of the park. Our Rochester winners of the Pepsi Hyped for Halftime Contest where thrilled to be right on the field watching the show. See this article which reports on how much they loved it. Next up we'll be seeing the Katy Perry Show, the Musical, show up on Broadway!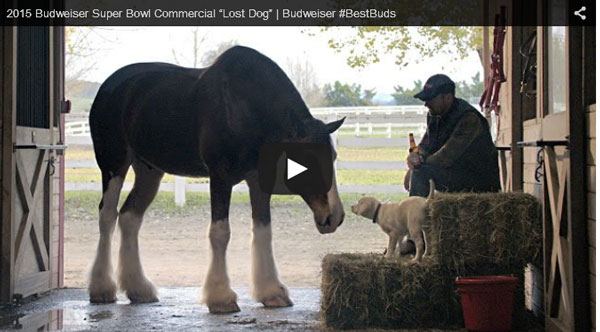 As for the ads, Budweiser appeared to take the trophy again this year for the best ad with their "Lost Dog" Puppy sequel ad which I do love and don't mind seeing again. I like the Snickers Brady Bunch ad which I thought was funny and very clever. One of my favorite brands, Dove, hit another home run with their Men Cares ad. I thought it had a double meaning though, poking some ridicule at the NFL for all the domestic abuse issues this year. I'm surprised that I haven't seen anyone mention this in all the ad critiques that I've read. I also was moved by the Always "Like a Girl" ad, but I've seen the video before. So what are your favorite ads?
This year especially, it wasn't just about the ads. It was more about how marketing campaigns integrated with digital and social media. "It used to be all about having this incredible Super Bowl commercial. [Now] you can't have a campaign without social media." as quoted by Linda Lagos of PepsiCo from Reuters. The campaign that really impressed me came from McDonald's, who not only ran an ad during the game, but tied it in with a twitter campaign and sweepstakes promotion.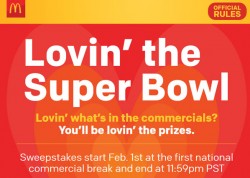 The McDonald's Lovin' Wins Sweepstakes took place during the Super Bowl broadcast, starting at the first national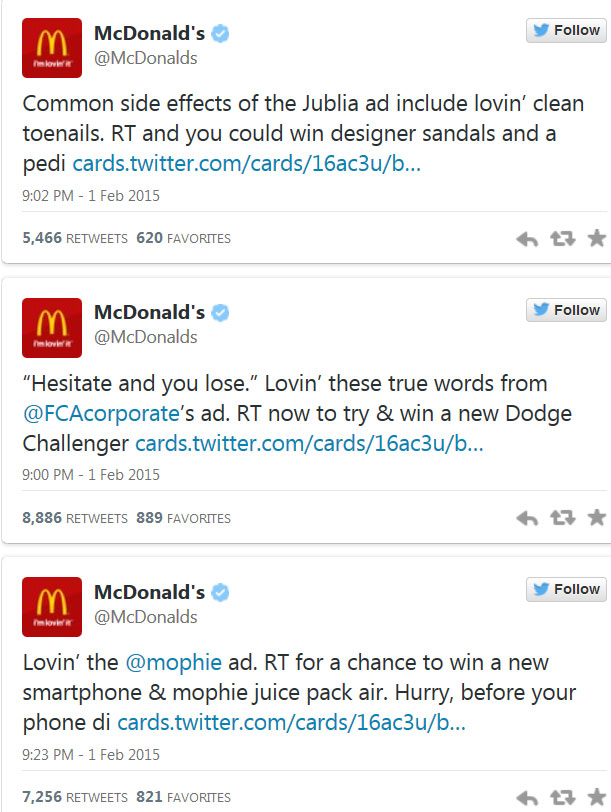 commercial break and ending at 2:59 am ET. The McDonald's team was tweeting like crazy, almost every minute, about other marketer's spots and using the word "lovin' in each Tweet which earned them thousands of retweets. Here is a sample of some of the Tweets, even one about Jublia's toe fungus ad.
Participants had to retweet one of the posts to be entered in the Sweepstakes for a chance to win the prize from that specific post. McDonald's had a total of 50 different prizes, one for each tweet they posted. The smallest prize was 12 Loctite packages of 10g Control Gel Super Glue and a leather fanny pack valued at $66.63. The largest was a 2015 BMWi3 with some extra features valued at $48,980. The total prize pool value was $339,121.11. Some Twitter viewers where really "Lovin'" this promotion.
There is now quite a bit of data that marketers can take away from this year's "Big Game", from those that both ran a commercial and those that didn't. At the same time, the teams of the NFL have much to review and to decide for the upcoming Road to Super Bowl 50!  That's my wrap of up Super Bowl 49! Hope you enjoyed it. Now it's back to business as usual.
—
Ready to get started?
Get Your Free Consultation