The Rio 2016 Olympics with #LikeAGirl, Alex Morgan and Thanking Moms from Always and P&G
August 3, 2016 2:27 pm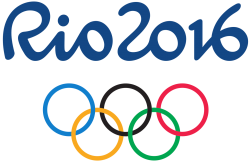 Rio de Janeiro will finally kick off the 2016 Olympic Games this Friday, Aug. 5, which willl take place till Aug. 21, marking the first Olympic Games to be held in South America. The Opening Ceremony will be held at the Maracanã Stadium in Rio and it was just announced that Michael Phelps, the most decorated Olympian of all time, was selected as Team USA's flag bearer! NBC is the official broadcaster of the games where you can watch it all live.
While there has been a great amount of negative news about the Rio Olympics, it hasn't stopped the sponsors of the Olympic Games to fully launch their marketing campaigns. One in particular I'd like to highlight in today's post is the Always #LikeAGirl campaign from parent company, P&G, who is a Worldwide Partner of the Games. They first introduced this campaign in June, 2014, which attracted a huge amount of press and public interest, taking home a Glass Lion in Cannes, while the video had more than 62 million views on YouTube.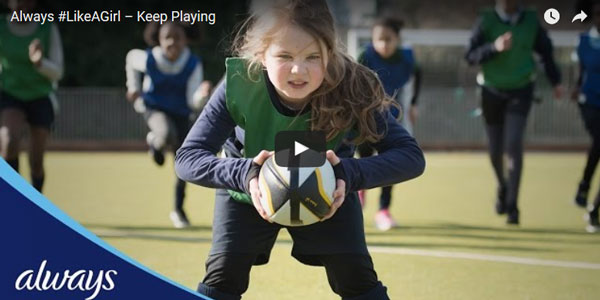 Their new ad "Keep playing" from Leo Burnett was released four weeks before the 2016 Olympic Games and it is now currently topping the chart on YouTube of all the ads from this year's Olympic sponsors. This ad addresses the fact that half of young women quit the sports they're passionate about due to outside pressures associated with their gender. The ads interview real girls who recount numerous stories where they've been told they aren't as aggressive as boys, or they simply can't do a particular sport.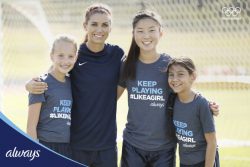 The brand stated that a recent NHCS study found that women aged 18 to 24 are twice as likely to be confident if they play sports regularly.The campaign features US soccer player and Olympic gold medalist Alex Morgan, who shares how playing sports when she was young helped build her confidence.
Alex recalls here a time that she was discouraged from playing a sport "around the age of 14 I was very discouraged from a coach. It was my first youth club team while playing soccer. She told me at the time that I wasn't good enough to play on the team, that I would never get into the game." Alex is proud to be part of #LikeAGirl "My goal is to show girls that I'm fighting so they have to."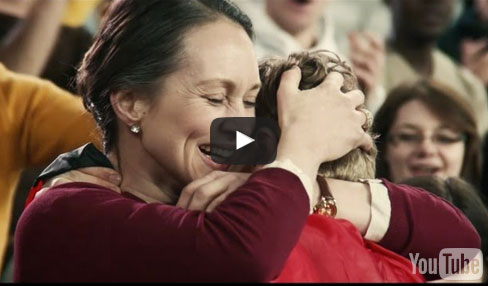 The #2 spot on the YouTube Olympic Sponsors chart is the P&G Thank You Mom Campaign that has also been revived. Their new spot, Thank You, Mom – Strong has been released just in time for the Rio 2016 Olympic Games. I wrote about this campaign when it originally launched in this post for the Sochi 2014 Olympic Games. This spot continues to pull on the emotional heartstrings, especially for us moms.
Next week I'll review another marketing campaign associated with the Rio 2016 Olympic Games. So stay tuned and enjoy the games.
Ready to get started?
Get Your Free Consultation