Phillies Fan Appreciation Ticket Giveaway
September 5, 2019 2:06 pm
I have not written here on this blog during the month of August, which is normally our slow period and also a month that many of us try to slow down as well. But now that we turned the calendar to September I thought I would start up again. Plus, I'm a bit excited because today is the start of a new NFL season in which the NFL is celebrating it's 100 year anniversary. Tonight's Thursday night game is taking place in Chicago with the Bears vs. the Packers. I've got Aaron Rodgers as one of my quarterback's on my Football Fantasy team, so I'm definitely going to be cheering for the Packers.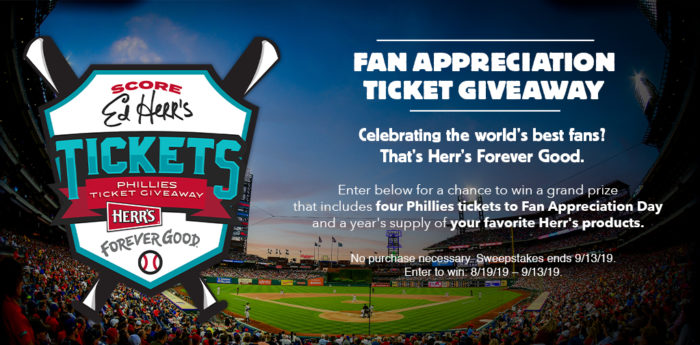 As one sport starts a new season another sport is winding down. MLB's regular season will end this month on Sunday, September 29, and then the playoffs will continue into October. So we are currently running the third, and final sweepstakes that is giving away tickets to a Phillies game. Herr's Foods is sponsoring the Score Ed Herr's Phillies Tickets Giveaway which is running till September 13.
The Grand Prize includes four Phillies tickets to the game on Fan Appreciation Day and a year's supply of Herr's products. Fan Appreciation Day is also the last day of the season, September 29. Only residents of the Philadelphia, PA, DMA are eligible to win since the winners have to get themselves to the stadium. The Phillies still have a shot at being the Wild Card team for the National league, so depending on how this month plays out it could be a decisive game or it could not.
At the beginning of the season we ran the Phillies Ticket Giveaway for Herr's that gave away four tickets for Opening Day.  We again ran another sweepstakes April-May which, along with the four tickets to game, the winner got to throw at the ceremonial first pitch.
We are again using the Shortstack Application to build the entry form and collect all the entrant's data for each of these sweepstakes periods. All of Shortstack's entry pages are mobile friendly from the start with Shortstack's "One Campaign for any screen" design philosophy. Last year they added an easy way to include CSS coding which is great for those of us that don't have much programming experience. If you would like more details on how to set up a promotion utilizing the Shortstack platform, please feel free to contact me. It's a great tool and it also includes a great team of support people.
Ready to get started?
Get Your Free Consultation