#GiveMerry Instagram Sweeps uses photos to promote holiday gift ideas
November 26, 2014 4:38 pm
The 2014 Social Media Marketing Industry report found that 42% of marketers were planning to increase their use of Instagram this year, compared to 38% in 2013. Instagram has grown and it doesn't appear that it's going to slow down in the coming new year. They currently have 200 million monthly users, and have become the network when it comes to image-based social media marketing. So what does 2015 have in store for Instagram?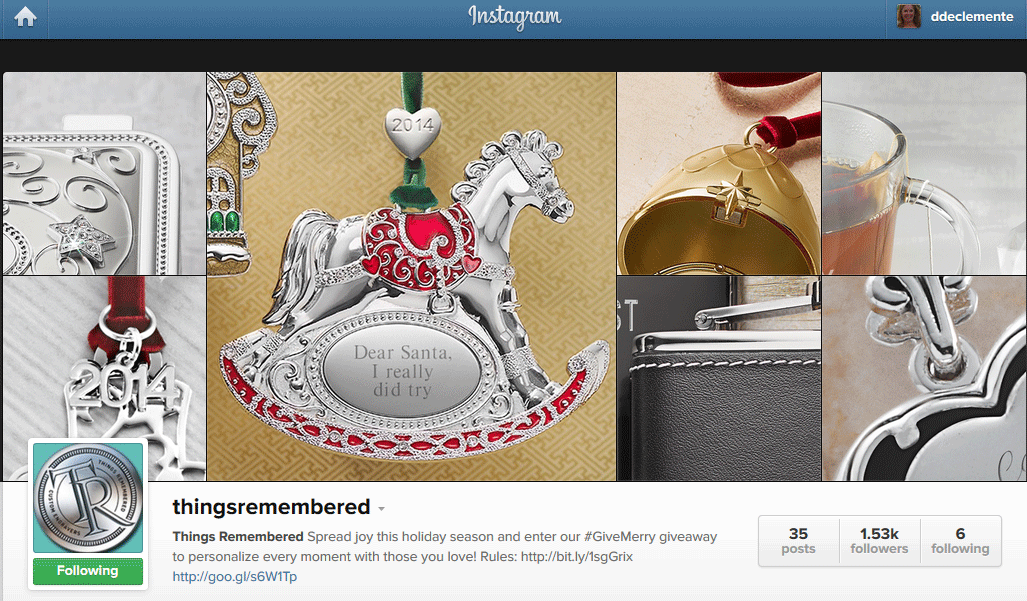 Our clients over at Things Remembered are utilizing Instagram for their big Holiday promotion this year. Their #GiveMerry Sweepstakes is offering participants a chance to win a daily giveaway and to "personalize every moment with those you love".  Each day during the Sweepstakes period, Things Remembered is posting a close-up image on Instagram (@thingsremembered) of one of their products. Participants can get one entry into that day's daily drawing by commenting on the Instagram post and correctly guessing what the product is that's shown in the daily photo. Comments are being accepted from the moment each post goes live until 3:59 pm on the following day which is when our team then draws the daily winner.
There will be a total of 48 winners, one winner per day, who will each win the product that was featured in that day's Instagram post. The promotion is live up until Christmas Eve. Here's a couple of examples of before and after photos that have been posted this week.
Each winner is contacted via Instagram from Things Remembered and asked to Direct Message them back with their contact info and what they'd like the engraving to say on their #GiveMerry gift! All the prizes are featured in the Things Remembered Holiday Look Book. Personalizing a Holiday gift for someone is a great was to thank them and share warm memories.
So on that note, I would like to thank all our clients and readers for your continued support and wish you and your family a very Happy Thanksgiving. Enjoy the day.
Ready to get started?
Get Your Free Consultation