Duel Links Yu-Gi-Oh Sweepstakes offers chance to win a trip to Tokyo
October 16, 2019 3:05 pm
If you're a fan of playing Japanese games you may be aware of a game called Duel Links. It is a Japanese collectible card game developed and published by a Japanese company, Komani Digital Entertainment.  We are currently working with their marketing agency in the U.S. called Petrol Advertising to help launch a new sweepstakes offering a chance to win a trip to Tokyo, Japan.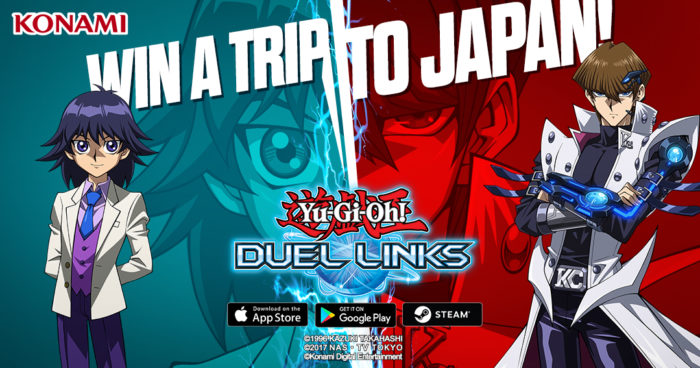 The actual name of the game is Yu-Gi-Oh! Duel Links and they are launching a new update to the game called Dark Side of Dimensions. The updates are free to download on Google Play, the Apple store and Steam. The sweepstakes of the same name, Yu-Gi-Oh! Duel Links – Dark Side of Dimensions Sweepstakes, just launched today. It invites players in the U.S. to take a screenshot of their best card deck from within the game and submit it along with their email on the promotional website located at https://gleam.io/UZKEW/ygodl-sweeps .
Participants can only enter once and a Grand Prize Winner will be randomly drawn at the end of October. The prize package includes round trip airfare for the winner and their guest to Tokyo, Japan, where Komani Digital is located. Also included is a four-night stay at a hotel in Tokyo. The Winner must provide proof of a valid passport to receive prize and trip must be taken within the 2020 calendar year. It is valued at $7,000.

The game is based on Duel Monsters, a fictional game created by manga artist Kazuki Takahashi, which is the main plot device of the game and its various anime adaptations and spinoff series. The object of the game is to duel in Duel World by first choosing your favorite character! If you defeat the character you move on to the next level. You can also duel against friends that are in your friend list. Players draw cards from their respective decks and take turns playing cards onto "the field." Each player uses a deck containing forty to sixty cards.
To be honest, I'm not a gamer and don't really understand the whole interest in these anime characters and games, but there is a huge market for them. This game was named the top selling trading card game in the world by Guinness World Records on July 7, 2009, having sold over 22 billion cards worldwide. I do think, however, that launching the sweepstakes offering a trip to Tokyo is a great way to raise awareness of the new update.
Ready to get started?
Get Your Free Consultation