Deschutes Brewery has success with text-to-win sweepstakes
May 23, 2018 1:52 pm
One of our clients through our sister company, Alliance Sweepstakes Services, has been utilizing text-to-win sweepstakes now for the past three years. Deschutes Brewery is a craft beer company headquartered in Oregon and their beer is available in 29 states throughout the U.S. and in D.C. They have been run these text-to-win sweepstakes during the past two years which they have had great success with. So they plan to run more of them this year. Here are a few of them that have launched so far.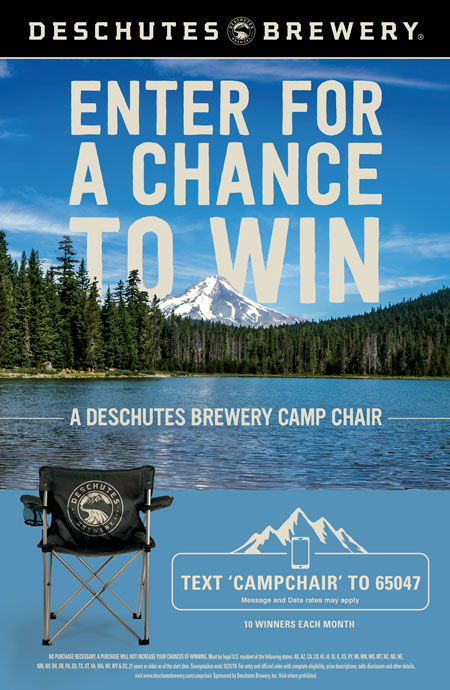 They kicked off the year on February 1 with their Camping Chairs Sweepstakes. This will run for nine months until the end of October and award 10 winners each month who will each receive a Deschutes Brewery branded Camping Chair worth about $50. All they have to do is text the word "CampChair" to the shortcode 65047 which we provide through the mobile platform that we have partnered with call Sweeppea. Upon receipt of the text message, the entrant receives a response message confirming the proper keyword and providing a link to the mobile Sweepstakes entry form which they have to enter their name, mailing address, phone number, date of birth, and e-mail address. People can also go straight to the online form to enter as well. Each completed entry form generates an entry and people can enter once a day. So they have several months to possibly become a winner.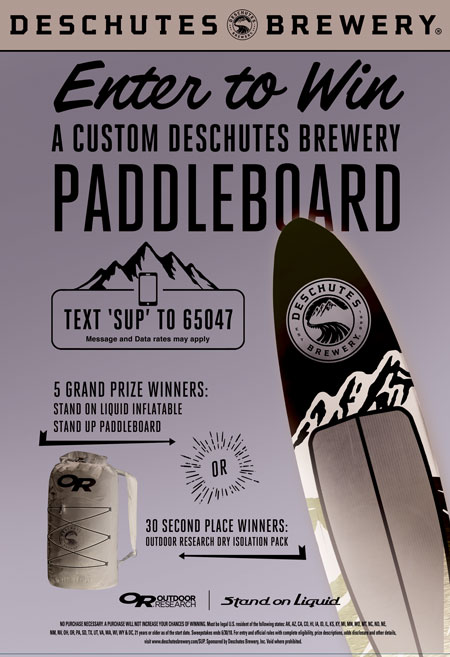 The next sweepstakes was launched on March 1 for their Stand Up Paddle Board Giveaway. This will run for just four months until the end of June when the final drawing will take place shortly after that. Five Grand Prize winners will each receive a custom Deschutes Brewery inflatable stand up paddleboard from Stand On Liquid which has a value of $700. Plus 30 second prize winners will each receive an Outdoor Research Dry Isolation Pack valued at $50. The total prize pool value of this sweepstakes is $5,000. People can enter similar to the Champing Chairs Sweepstakes but in this case, they must use the keyword "SUP" when they text in.
The third sweepstakes that the Brewery currently has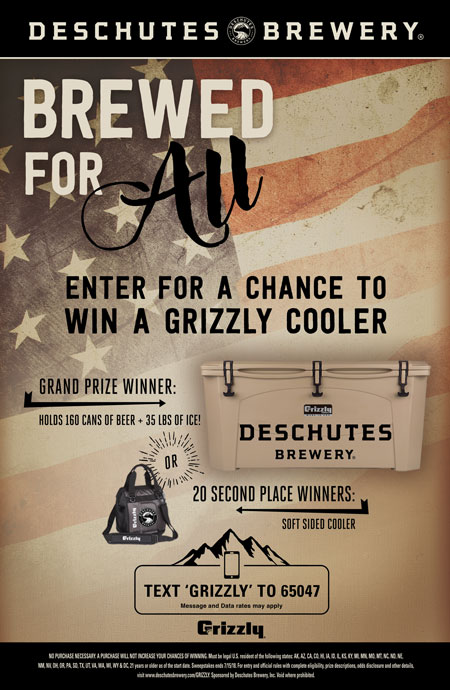 going is the Grizzly Cooler Sweepstakes. This just launched on May 15 and runs till July 15, so only two months for this one. Entrants text the word "Grizzly" to enter for a chance to win a Deschutes Brewery branded Grizzly Cooler valued at $800 that can hold 160 cans of beer along with some ice. Or they could be one of the 20 second prize winners that could win a smaller, soft-sided Grizzly cooler that has a $50 value. People can also enter directly on the Deschutes Brewery website.
So as you can tell by these prize selections, Deschutes Brewery seems to really know their customers and has defined them as outdoor enthusiasts. With these sweepstakes Deschutes Brewery not only collects the entrant's mobile phone number, but their name, email address and mailing address, which makes it easy to ship out the prizes directly to the winners. Since this sweepstakes is for an alcohol beverage brand we need to make sure that entrants are 21 years of age or older as well so that is why we ask for their date of birth.
One of the main objective of these text-to-win sweepstakes is for the brands to receive extra awareness at retail and bar locations. Many alcohol beverage brands are now utilizing text to win and other types of sweepstakes promotions in order to gain the extra display at point of sale that promote the sweepstakes. Deschutes Brewery has a couple more of these types of sweepstakes scheduled further in the year which I'll keep you posted on.
Ready to get started?
Get Your Free Consultation