Banded launches The Greatest Outdoor Giveaway Sweepstakes
July 13, 2016 2:29 pm
I was recently contacted by an previous client that told me he was now working for a company called Banded and wanted to run a huge sweepstakes.  I'm not at all what you would call an "outdoorsman", so I had no idea who the company was. They wanted to give away a truck and a boat, along with a bunch of gear, to not several different winners, but one big prize to one winner!  "The Greatest Outdoor Giveaway" Sweepstakes was just launched this week.

So I educated myself a little on what Banded is all about. They currently offer over 600 items representing 19 diverse product categories on their website. Some of the product categories include outerwear, waders, boot, hunting accessories, blinds, decoys and calls. BANDED was originally  formed by a group of avid outdoorsmen, innovators, and product designers that joined forces after years of working in the outdoor industry. Their goal in the beginning was to create superior products to enhance the outdoor experience and that remains to be the foundation of BANDED today.


I've written about previous sweepstakes that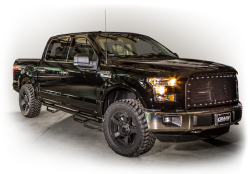 have given away a great big prize before, like the Exotic Estates Hawaii Villa Escape Sweepstakes, but this prize tops that one by quite a bit in just its value, which totals over $83,000! The winner takes all…a 2016 Banded-Edition Ford F-150 FX4, a Banded-Edition War Eagle 754 LDV Boat in Mossy Oak® Camo complete with a 50hp Yamaha motor, Banded Axe Blind, GHG Pro-Grade decoys and a bunch of other gear! Besides Banded the other prize providers that are part of this great outdoor giveaway are Crain Automotive Team, War Eagle Boats, Mossy Oak and Mack's Prairie Wings.

The objective it to raise awareness of all the products that not only Banded offers online and through their retail partners, but also what the other prize providers offer as well. Banded will be promoting the sweepstakes to their Banded Nation community. These are subscribers to the Banded enewsletter, their blog and emails that are part of this dedicated community that relies on Banded as a great resource of information from everything from hunting tips, to how to train your retriever, to recipes and cooking ideas, and gear tips as well.
The sweepstakes runs till November 14. So pass along this sweepstakes to any of the outdoorsmen in your life. They can then get ready for both the duck and turkey hunting seasons.
Ready to get started?
Get Your Free Consultation