All-Star Game sponsored by T-Mobile includes a Twitter promotion
July 15, 2015 12:13 pm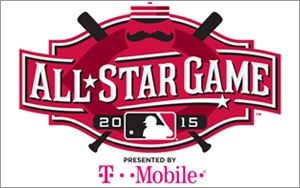 The annual MLB All-Star Game which was held last night is a clear sign that we are in the middle of the summer. This is when the MLB is on a break for a few days as it prepares for it's second half of the season.
The game was held in Cincinnati this year and the American League won again, 6-3. Mike Trout from the LA Angels started off the game with a home run and he became the first man in history to win back-to-back All-Star MVP awards. The next team that faces the Angels is of course the Boston Red Sox who have not had a very good first half!
T-Mobile was the presenting sponsor of Fox's broadcast of the The All-Star Game. This sponsorship also included stadium presence as well as "FanFest" activities scheduled in the game's host city. T-Mobile used this major platform to promote its latest initiative, "Mobile Without Borders," which allows customers to call, text and use data in the U.S., Canada and Mexico on one rate plan.
T-Mobile also ran a promotion inviting fans to predict which player (if any) would hit a three-run homer. They asked fans to post the player's name on Twitter using the hashtag #3for1HomeRun and #sweepstakes. If any player hit one during the game, T-Mobile would then randomly select 10,000 of those Tweet predictions who would win a $500 voucher to be used toward travel to Canada or Mexico. T-Mobile was promoting the sweepstakes through all of its social channels, as well as digital and on-air broadcast advertising and in-stadium signage.
Unfortunately there was not a #3for1HomeRun.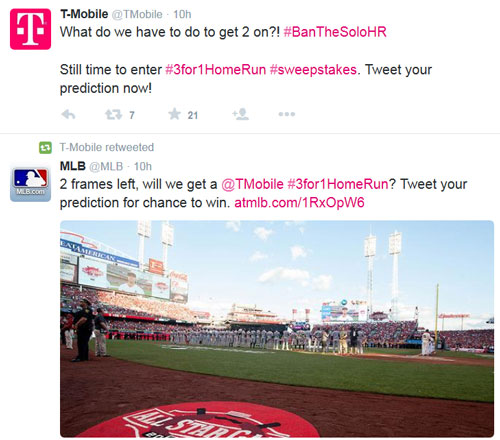 If there was that would have meant  a $5 million payout. T-Mobile secured prize insurance for a much smaller fee from our friends at SCA Promotions who took on the risk for this program. In the event  a player hit a three-run homer the insurance company would have had to pay for the prizes.
So if this type of promotion with big prizes interests you let's discuss how it may fit into your marketing program. It worked well for T-Mobile in this case and helped them get the most out of their sponsorship dollars.
Ready to get started?
Get Your Free Consultation