This holiday campaign, #PostNetMerrymakers, offers a chance to win $5,000 and a matching charity donation
December 9, 2015 1:03 pm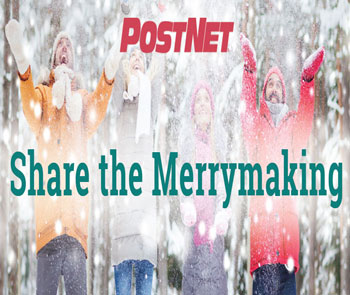 Holiday promotions that include a donation component are very popular with brands as a way to show that they're giving back. This season one of our clients, PostNet, aims to encourage acts of kindness with the launch of the #PostNetMerrymakers campaign.
Now through December 31, people can enter for a chance to win a $5,000 holiday shopping spree that will be awarded in the form of a check. Participants need to fill out an entry form located here at the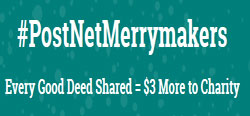 .
They are then encouraging participants to join them in spreading holiday merrymaking by sharing on social media one good deed that they have done, or promise to do, for someone else during the holiday season. For every good dead that is posted on Twitter, Facebook and/or Instagram that uses the hashtag #PostNetMerrymakers, PostNet will donate $3 to the winner's choice of four meaningful charities, including JDRF; The ALS Association; United Way; and ASPCA. The maximum donation from PostNet is $50,000.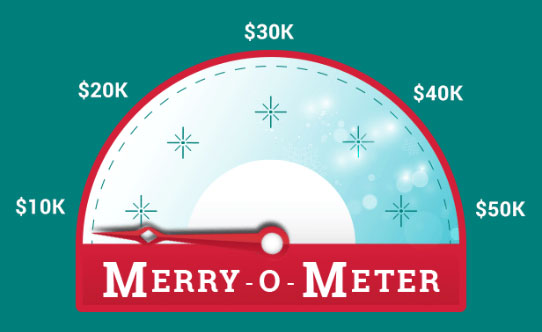 There are many posts so far which some are featured on the promotional page. Also PostNet has a "Merry-O-Meter" that shows the amount of money that is currently pledged toward the charity donation. No good dead is too small.
PostNet is the leading business-to-business franchise known for providing personalized, business-enhancing print, marketing and shipping solutions. Locally owned and operated PostNet locations offer full-service digital printing; direct mail; signage; document binding and finishing; graphic design; and ancillary business services, like private mailbox rental and more. They also offer professional packaging services and shipping with UPS, FedEx, DHL and the U.S. Postal Service. So the holiday season is a very busy time for them.
Ready to get started?
Get Your Free Consultation