Purina ties into Thanksgiving with #DogThanking Promo
November 25, 2015 11:52 am
My post today is relevant to this holiday since it is the eve of Thanksgiving . This is when we all should express what we are thankful for. I am personally blessed with many things to be thankful for, most importantly the good health of me and my family and our well-being.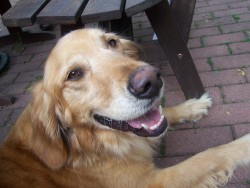 However, today  I am especially very thankful for our dogs. Our 12-year old Golden Retriever, Shadow,  went under yesterday to have a abscess removed from his eyelid and his teeth cleaned at the same time. The look he gave me as I walked out of the vet's room and left him with this stranger, would break any mother's heart.  He is very glad to be back home and sleeping it off quite well. I can't help thinking that he is getting old and won't be with us forever. This makes me appreciate the time I have with my dogs even more.
Here's a Thanksgiving-themed promotion from Purina PetCare that is running now through Nov. 29. Purina is inviting dog owners to post on Facebook, Twitter or Instagram why they are thankful for their dog. For every original post submitted that includes @Purina and the hashtag, #dogthanking, Purina will donate one dollar to the AKC Canine Health Foundation, up to $75,000, to help further pet health research.

On top of that, Purina plans to share some of the posted videos, photos and posts during the National Dog Show Presented by Purina on Thanksgiving Day on NBC. This show is a tradition that we watch after the Thanksgiving parade each year. Purina is promoting the initiative on its Facebook page, via its Twitter account and on Instagram.
Purina has had the support of Olympic figure skater and fashion commentator Johnny Weir who helped kick off the campaign by thanking his dog Tema: "Tema is my little prince, and always there wagging his tail when I get home. He brings so much joy to my life, and I am so thankful for his companionship," Weir said of his Japanese Chin. Weir will also appear on the National Dog Show on Thanksgiving day.
So I'm now going to create my post and share why I am so thankful for my dogs. If you're a dog owner, please share yours as well.
Happy Thanksgiving everyone.
Ready to get started?
Get Your Free Consultation