Tourism Australia offers 52 chances to visit now, not Someday
April 2, 2014 5:40 pm
G'Day America. Are you one of those people that wish to take a vacation to Australia someday? Well Tourism Australia is hoping that their new Australia Someday promotion will prompt many of us to act on that wish now.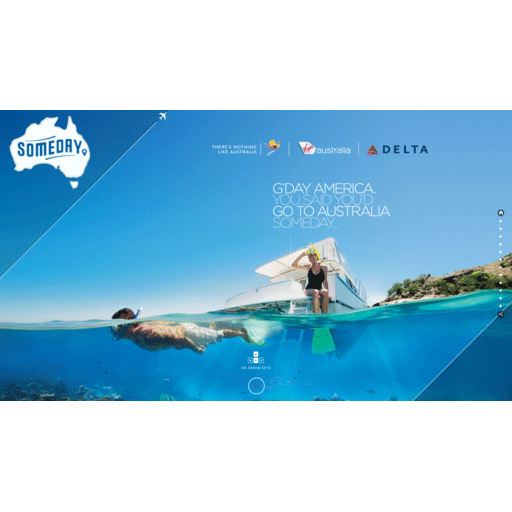 Last week they launched the Someday campaign which is in partnership with Virgin Australia and Delta Airlines, their first joint U.S. marketing campaign, which offers a chance to win one of 52 amazing trips to Australia.  "Someday" hopefuls can visit AustraliaSomeday.com to participate in the Australia Someday Challenge Sweepstakes and explore unforgettable experiences throughout Australia.
"I really want to go someday" is something Americans say a lot about Australia. Beyond the major landmarks, few realize the variety an Aussie vacation allows, where to start or truly how close Australia is – only 14 hours from Los Angeles to Sydney on Virgin Australia's daily direct flights.  Once on the promotion's website, participants can choose from 52 signature week-long trips, one a week for a whole year, that feature the best experiences and events in Australia. Each trip comes complete with a week's hotel, round-trip airfare for two and the featured Australian experience.
"Someday" participants are invited to go through a visual journey that includes videos and pictures related to each of the 52 experiences which act as clues to where in Australia the experience is located. Georgina from Virgin Australia Airlines provides instructions on how to win the "Someday" that they chose by guessing correctly where it is located. First they select the state from the map of Australia they think this Someday is located and then place a "pin" on the exact location on the map. If their guess is correct, within a 10 mile radius from the actual location,  they will be entered into the drawing for a chance to win that "Someday" trip.
Participants can make a guess on each of the 52 experiences, but will only be eligible to win once. If an experience does not receive any correct guesses, then a second-chance drawings will be conducted at the end of the promotion from everyone who participated to award that experience.
Jane Whitehead, Tourism Australia's Vice President, Americas, said "We created a contest that will test everyone's Aussie geography, provide some great vacation inspiration and, importantly, show how accessible an Aussie vacation is – and how each of these experiences can be enjoyed within one week-long trip." Tourism Australia has been working with the agency team at the Clemenger Group, BBDO, who are located in Sydney, to create this campaign. The agency contacted us to assist with the promotion administration and to make sure it complies with all U.S. rules and regulations.
The team tells me that the promotion has gotten off to a great start. Within the first 5 days they had received 114,865 entries with 28,944 unique entries, averaging out to be 3.9 entries per user. The promotion ends on April 21 and then the answers will be revealed for each experience. The website will continue to serve as a tool for Americans to build their ideal Australian trip, using the "Someday" trip itineraries that were created for each experience along with Virgin Australia's Airpass.  Special offers from Delta Vacations and Virgin Australia will be available for those who entered, but did not win and still may want to experience their Aussie "someday" now.
I myself may take them up on one of these offers. I've always dreamed of "Someday" snorkeling in the Great Barrier Reef! 2015 may be a good year to experience "Down Under".
Ready to get started?
Get Your Free Consultation